May 14, 2022 - Terry Lutz Receives the Wright Brothers Master Pilot award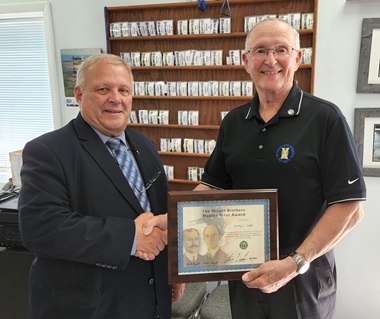 Chapter 55 Participates in 2019 Mason Lighted Christmas Parade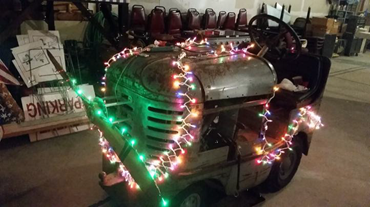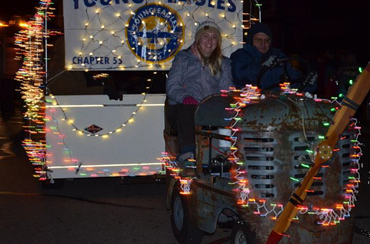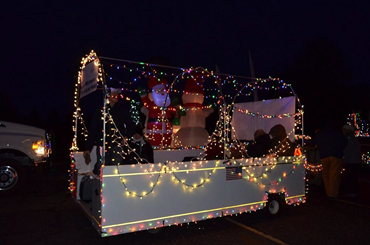 ---
2009 AirVenture News and Photos...
Terry Lutz, fellow EAA Chapter 55 member and Airbus A380 test pilot joins group at Oshkosh!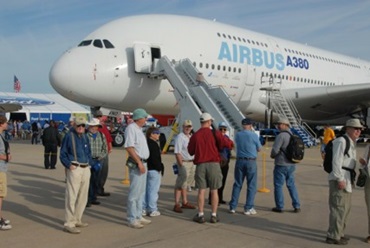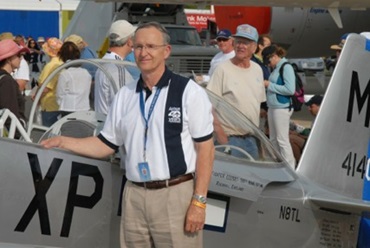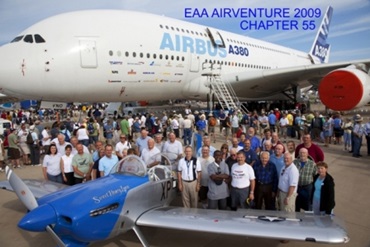 ---
"Ernie Lutz Day" February 25, 2008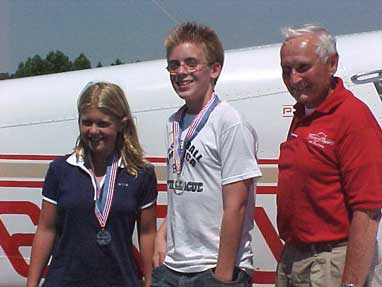 Ernie Lutz With Amber(1000th) and Michael (999th) (Pictured Above)
August 10th, 2002, Ernie Lutz flew the chapter's 1000th Young Eagle and his personal 100th YE flight.
Ingham County Community News Article
Congratulations goes to Mr. Lutz (Ernie) for having his own day in Mason history.

The Mason Community along with EAA Chapter 55 and all of Mason Jewett Field Users are beyond fortunate and value our opportunity to receive Ernie's wisdom and this most honorable mans presence.

Mason as a Community exhibits tremendous generosity in understanding and honoring it's most valuable resource; it's people.
We out at the airport, Mason's aviation community have long loved this man.

Sincerely,
Dan Schiffer
---
Chapter 55 Members Fly the Michigan Flag to Kitty Hawk
November 2003, Chapter Members Gregg Cornell and Mike Arntz fly the Michigan Flag to Kitty Hawk for the Centennial of Flight Celebration.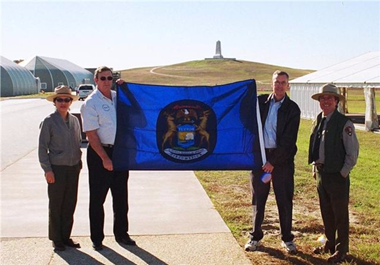 ---
Chapter 55 hosts the
National Ercoupe Fly-In Convention
June 20-23, 2002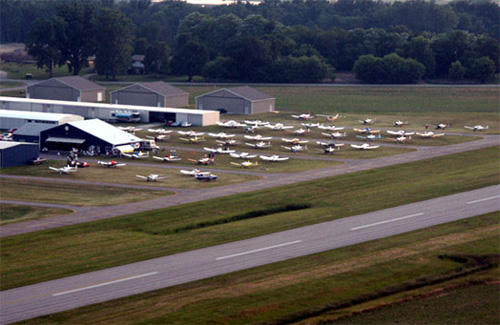 Being a Chapter 55 member: "The toughest job you will ever love." The Peace Corps motto has a special poignancy to all the members who came out to help staff the National Ercoupe Fly-In. While the work was hard at times, fast-paced, or required serious innovation only pilots could dream up, the many smiles shared among the Convention visitors made the the heat, rain, and sweat bearable.
Three years and much planning later, the National Ercoupe Fly-In at Mason Jewett Airport has become a reality. With an expected showing of 150 airplanes, several campers, and numerous daily visitors Mason Jewett Airport bustled with activity. Convention goers enjoyed daily fly-outs to surrounding airports (Brighton to check their narrow-runway-landing skills; Battle Creek to view the Classic Waco facility; etc.), forums and seminars, an auction and the chance to win an engine cylinder in an unusual "attitude", and the banquet on Saturday evening.
In particular, this Fly-In became a reality thanks to the Jewett family who worked tirelessly to woo the National convention to Mason, Bill Purosky who organized and browbeat the chapter into actually signing to volunteer, Ted Lakin for working out meal plans and the actuation of them, and all the chapter volunteers who could be relied on to make this convention a memorable experience.
---
Chapter members grab top honors at National Stearman Fly-in
Dave and Debbie Groh's Stearman won Best PT-17 at the National Stearman Fly-In in Galesburgh, Illinois. Chapter 55 members owe the Grohs' many thanks for sharing the BEST Stearman in the world with us. ( I can't believe I actually got to hand start it.) Pictures of the Grohs' airplane will be posted as soon as I can get some.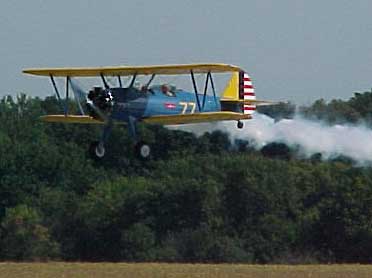 Pete Chestnut's Stearman won the Deed Levy award. The Deed Levy Award is given to aircraft that have been piloted by notable aviation personalities. On the 26th of March 1941 Pete's Stearman was delivered to East St. Louis by Deed Levy who was chief production test pilot for Stearman Aircraft.