Whether you fly, build, restore or simply enjoy airplanes and aviation, you are welcome at Chapter 55.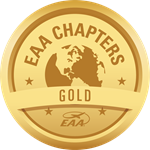 We are a group of aviation enthusiasts, aircraft builders, and pilots who get together with like minded people to share ideas, exchange information, encourage safety, serve the local aviation community and have a lot of fun doing so. A very diverse membership ensures that any aviation enthusiast will find others in the Chapter who have similar interests. Not all Chapter members are pilots or homebuilders. Anyone who loves airplanes, flying, or anything related will find EAA and Chapter 55 a welcome place. Chapter meetings feature speakers and programs that cover a variety of aviation-related topics to assure that there is something for everyone. But the best part is the informal "hangar flying" sessions with countless tales being shared (truthful and otherwise).
Chapter meetings are held on the second Saturday of each month beginning at 9:30am at the EAA Chapter 55 Hangar on the Mason Jewett Airport in Mason, Michigan. But please come early to enjoy the full Breakfast of pancakes, eggs, sausage, OJ & coffee served from 8:00am to 9:00am (free will donations accepted).
Visitors and Guests are always welcome!