The Latest Issue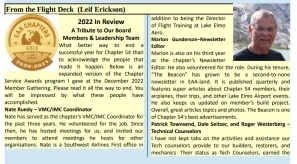 January 2023
(First Quarter) - President Leif Erickson pays tribute to the contributions of board members and other chapter leaders; Robyn Stoller previews upcoming guest speakers; a recap of recent speakers; newsletter editor Marlon Gunderson tells us about some recent Cozy builders, a model, he says, that doesn't get built much anymore. It's 11 pages of aviation-packed adventure.
The Beacon is Chapter 54's quarterly newsletter packed with information on meeting programs, building projects, and chapter programs such as the Young Eagles. It is the primary source for information for chapter members.

The newsletter has been published in pdf format since 2002 and we're pleased to provide all of the monthly issues in the archive section (available via the menu drop-down or the links below). A summary of each issue is provided and much of the content is valuable today, particularly excellent tech counselor articles and engine maintenance articles from chapter legends such as Bill Schanks and Jim Montague. There are also fascinating reports on journeys members have taken in their aircraft to such destinations as Alaska, Florida, and Yellowstone.

The newsletter depends on the content contributions from members and the aviation community at large and it is vital that we all step forward to help. Please contact newsletter editor Marlon Gunderson with your content ideas and suggestions.
Archives:
2020-Present editions
2010-2019 editions
2002-2009 editions