(Select the drop-down menu on the left to see EAA chapter video and meeting minutes)
Limited Aircraft Registry Services Now Online
(May 21) The FAA Registry is now offering limited online aircraft registration services at cares.faa.gov. Individual aircraft owners can complete self-guided aircraft registration applications, upload legal and supplemental documents, receive auto-generated notifications, request aircraft registration N- numbers, use modernized online payment options, receive instant notification of payment, and digitally sign Aircraft Registration Applications. Online services will be continuously improved and expanded to include corporations, LLCs, partnerships, and non-citizen trusts.
Ray Scholarship recipient solos|
(May 12)- A major milestone for our first-ever Ray Scholarship recipient. Matthew Lynes soloed on Friday May 12. Under the program, a series of deadlines follows Lynes' progress. His first solo was anticipated by the end of July, so he's far ahead of expectations. A written pilot examination should happen by the end of October and a checkride by a year from now. The final 20% of scholarship funds will be sent after he passed the written exam.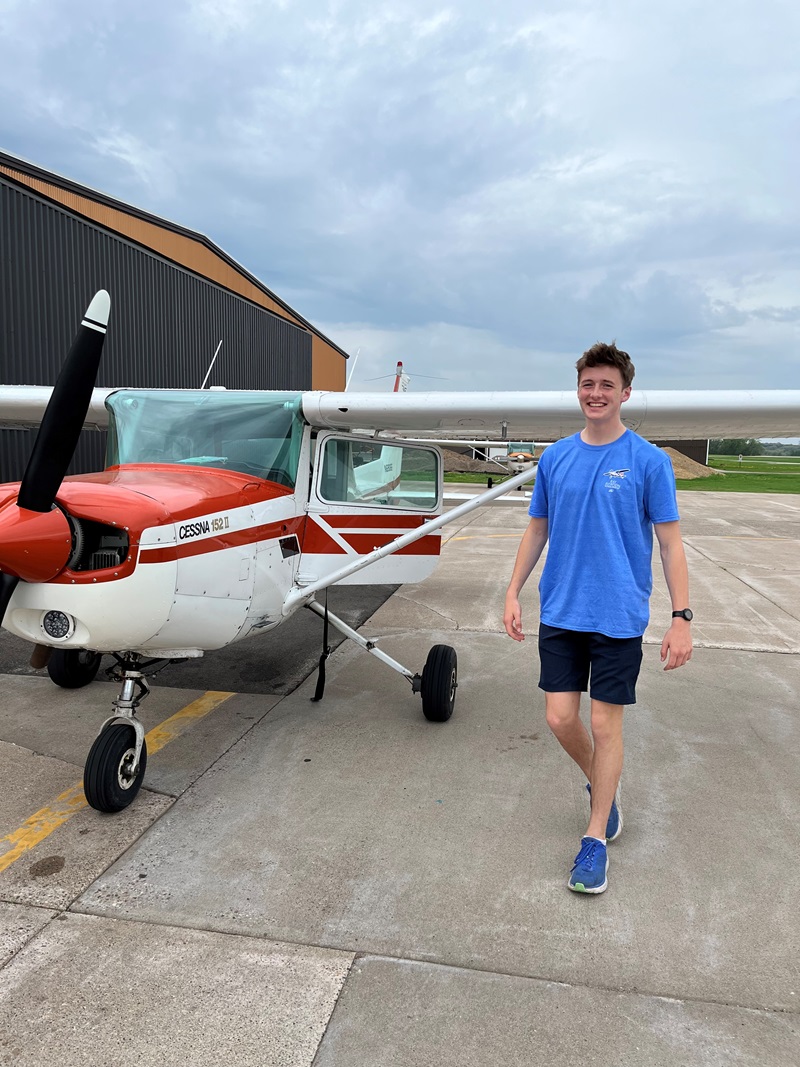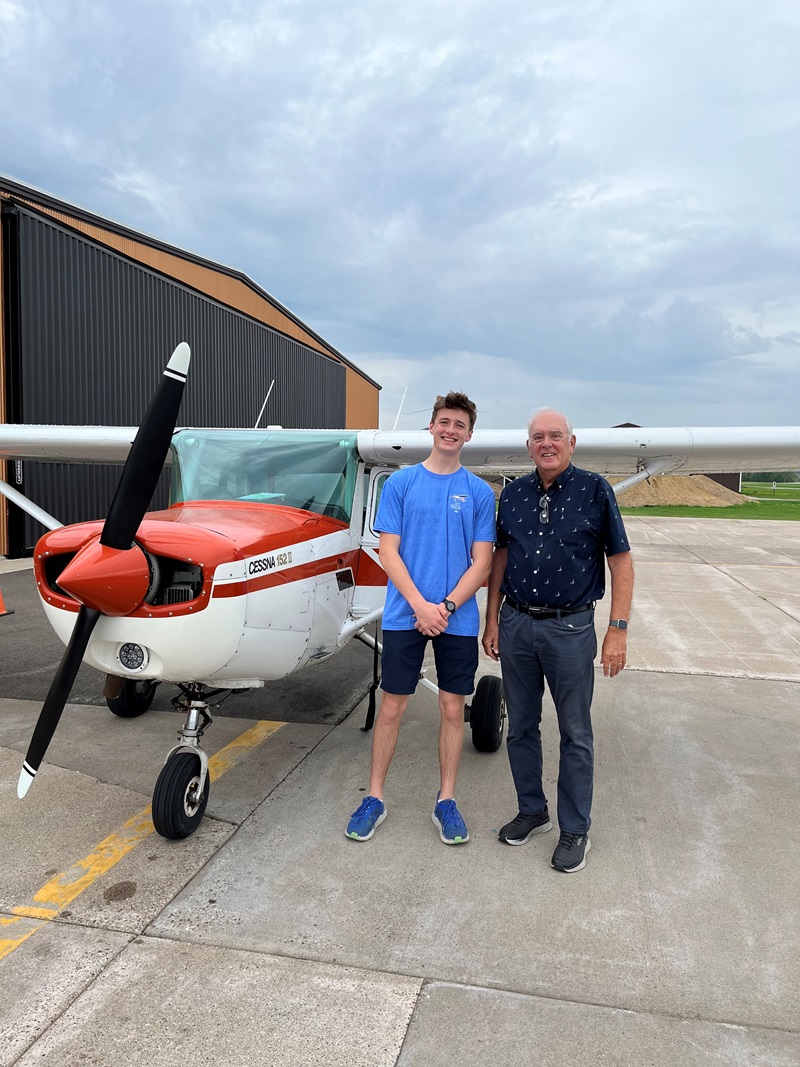 EAA AirVenture Oshkosh 2023 Notice Includes Important Procedure Updates
There are several important FAA-approved changes in the EAA AirVenture Oshkosh 2023 Notice, featuring arrival and departure procedures for EAA's 70th fly-in convention on July 24-30 at Wittman Regional Airport in Oshkosh. Read more›
Member Survey Reviewed
At its meeting on May 1, members of Chapter 54's Board of Directors reviewed a breakout of a national survey of EAA members. The breakout included only responses from members of Chapter 54. It's important to note that only 23 members took the survey so there is the danger of reading too much into a small sample size, and there were conflicts with a previous chapter-only survey. Specifically, this came on the question of whether members are interested in building airplanes, the historical underpinning of EAA. In the member-only survey, little interest was expressed in such an endeavor while the breakout of the national survey showed the topic to be of substantial interest. In the national survey showing 55% "significant interest," only 18 members responded.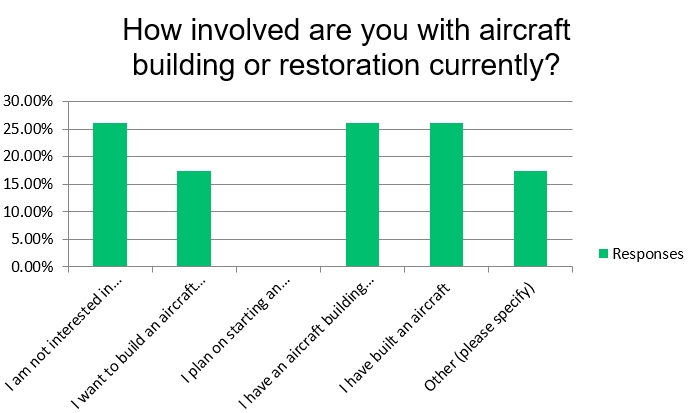 Young Eagles and chapter programs remain among the most important aspects of chapter life, according to the survey. But the shortage of chapter volunteers to fly Young Eagles is problematic. Young Eagles coordinator Vicky Moore pointed out that for the upcoming Young Eagles Day there are about 40 young people seeking their first airplane ride and another 14 on the waiting list. Finding volunteer pilots has been a challenge, partly because it's the fishing opener and Mother's Day weekend.
Bob Collins pointed out that the challenges of Young Eagles volunteers speaks to the interconnected nature of EAA's various missions. While the chapter membership in its present construct may not be interested in building airplanes, it is rapidly becoming the only viable path to airplane ownership despite the recent surge in kit prices. And without plane ownership, there couldn't be Young Eagles pilots.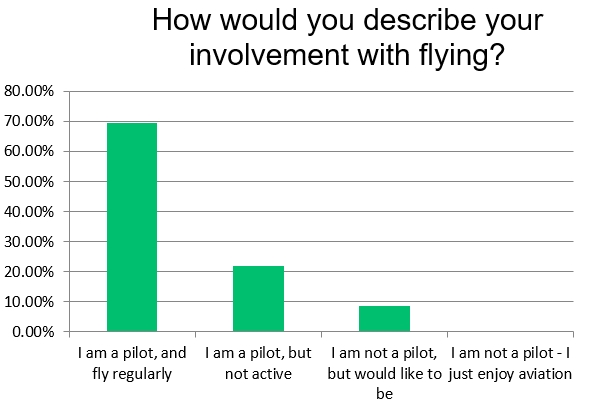 At the same time, though, Robyn Stoller pointed out that she and Director-At-Large Jay Schrankler have been talking to successful EAA chapters about how they are growing their chapters. In at least one case, the secret is a focus on the Young Eagles program.
Chapter member comments about the chapter broke little new ground. Only 15 of the 23 survey-takers left a comment, most appreciative of the chapter's efforts although one or two focused on the general lack of women and young people among its members. Robyn pointed out that increasing the number of female members is difficult given the comparatively low number of women in aviation.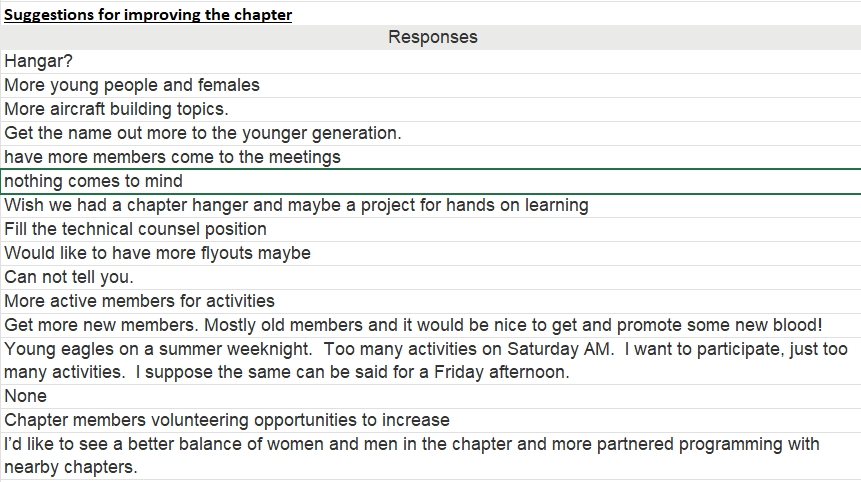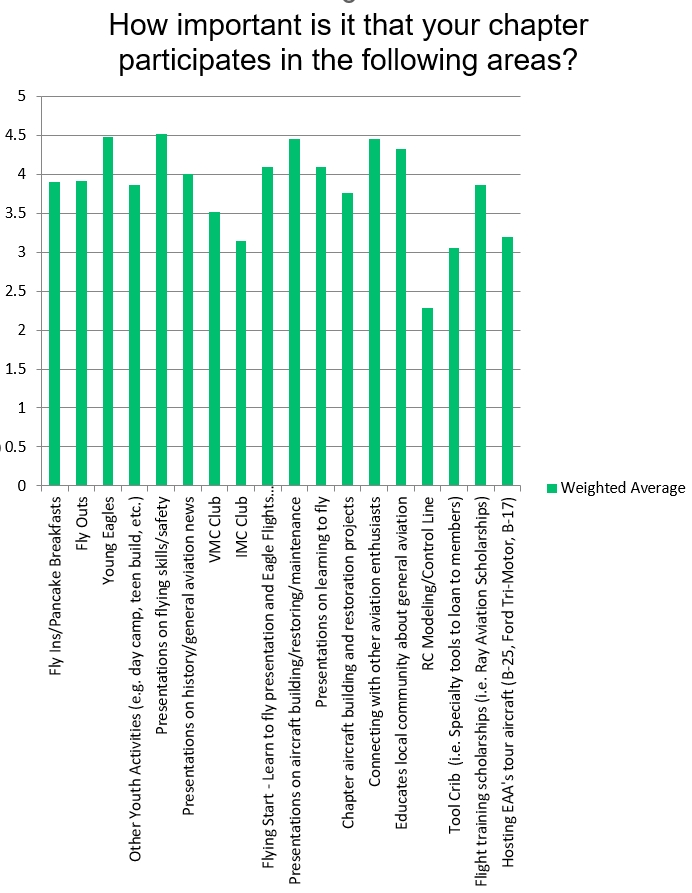 Fourteen of those surveyed said they were "very satisfied" with the chapter's regular gatherings and meetings. Nine said "somewhat satisfied." None said "not at all satisfied." Curiously, however, one member on a separate question said they would not recommend Chapter 54 to members or friends.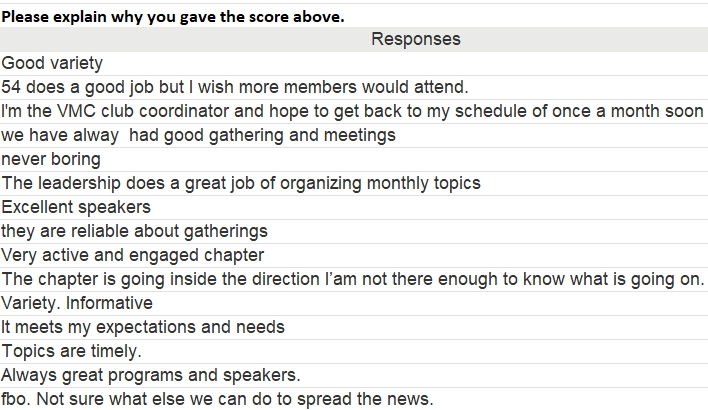 The Board was not asked to take action on the EAA survey results.