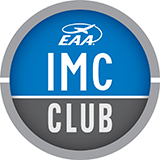 Our chapter offers an IMC Club for our members interested in improving their flying in instrument conditions.
The IMC Club's purpose is to promote instrument flying, proficiency, and safety. The intent is to create a community of pilots willing to share information, provide recognition, foster communications, promote safety, and build proficiency in instrument flying.
The IMC Club monthly programming is developed and produced by EAA, but it does not use a lecture or presentation format. Instead, an actual scenario is presented and is followed by a group discussion – so audience participation is encouraged! Since everyone has a different experience level and different airplane capabilities, we can all benefit from the discussion.
Chapter 54 has partnered with Nate Ruedy @ Lake Elmo Aero to conduct both VMC and IMC Club Meetings. They will be held monthly at the Chapter 54 Clubhouse, and alternative between VMC one month, then IMC the next month. Due to the Coronovirus and social distancing recommendations, the VMC/IMC meetings have been put on hold.