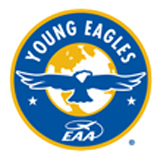 Founded in 1992, the Young Eagles program is dedicated to giving youth ages 8–17, an opportunity to go flying in a general aviation airplane. These flights are offered free of charge and are made possible through the generosity of EAA member volunteers.
It's the only program of its kind, with the sole mission to introduce and inspire kids in the world of aviation.
Today, the Young Eagles program has flown over 2 million kids.
For more information from EAA headquarters about the Young Eagles program, visit www.youngeagles.org
Learn more about an EAA Student Membership
An EAA Student Membership is available FREE to any young person age 8 – 18 ½ who has completed a Young Eagles flight. A Young Eagles flight is the first step in a lifetime of exciting aviation experiences…and it's free! Find a free Young Eagle flight here.
Click here and enter the unique code that came with your logbook to activate your FREE EAA Student Membership.
Membership is free and includes:
FREE access to Sporty's Learn to Fly Course ($279 value)
FREE first flight lesson* ($130 value)
FREE admission to nearly 400 science and technology museums**
FREE Academy of Model Aeronautics Student Membership
FREE digital copy of EAA Sport Aviation magazine
Reimbursement for the cost of your FAA Knowledge Exam***
Access to valuable flight training awards, education scholarships, and Air Academy camperships
*Upon completion of the first three volumes of the Sporty's Learn to Fly Course.
** Facility must be located at least 90 miles or more from both the EAA AirVenture Museum in Oshkosh, Wisconsin and your home address.
** Any special display areas with an additional charge in the museum you are visiting are excluded.
*** Upon completion of the Sporty's Learn to Fly Course.