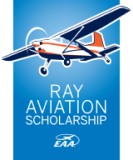 Through the generous support of the Ray Foundation, EAA provides up to $10,000 to deserving youths for their flight training expenses, totaling nearly $1,200,000 in scholarships annually.
The program is supported by more than 100 EAA chapters, and supports close to 120 scholars.
Each year, our chapter supports one scholar, between the ages of 16 and 19, in the form funding and mentorship to help him or her earn their pilot certificate.
There are now less than 1/3 FEWER pilots in the US than there were in 1980. >>>> Owen Hughes

We continue to lose pilots every year, yet demand for commercial flight has grown almost continuously and exponentially (with the unique exception of this last year's Covid disaster). One of the major reasons there are fewer pilots today has to do with the sky-rocketing costs of flight training.
The Experimental Aircraft Association and the Ray Foundation is hoping to combat this catastrophic situation by awarding more than 100 full flight training scholarships a year to its Young Eagle kids. Since a Pilot's License is good for a lifetime, each Young Eagle that becomes a pilot may impact our aviation community for the next 80 years!
EAA Sacramento Chapter 52 has awarded 3 Ray Full Flight Training Scholarships that will have resulted in 3 new Private Pilots by the end of the 2021 summer! A 100% success record, when the average completion rate nationally for PPL's is only 25%!
What each of our Ray Scholars ultimately does with their incredibly valuable Private Pilot's Licenses, only the future knows. But each remarkable recipient has demonstrated outstanding character, ability, and focused interest in aviation. EAA Chapter 52 has potentially catalyzed 240 person years of pilot qualified contribution to the aviation community!
So who are EAA Sacramento Chapter 52's Ray Scholars? Let me introduce you to them:
2020/2021 Ray Scholar Isai Villanueva -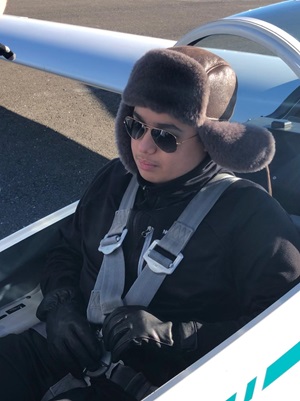 Isai Villanueva is now 16 years old and a junior at Rex and Margaret Fortune Early College High School, where he will get his high school diploma and an associate's degree at the same time. Isai has a better than 4.0 GPA, was a Master Sergeant with the Civil Air Patrol, an EAA Young Eagle with EAA Chapter 52 and a member of the Tuskegee Airmen Heritage Chapter Youth Legacy! EAA Chapter 52 sponsored Isai to attend the EAA Air Academy in Oshkosh, Wisconsin – but and he has also attended the Civil Air Patrol California Wing Encampment, and the EPIC summer camp at Cal Poly San Luis Obispo. Ever since Isai can remember it has been his desire to take command of an aircraft and travel the world. His ultimate career goal is to be an airline captain.
Isai recently received his Glider Pilot's License and now, thanks to the Ray Flight Scholarship EAA Chapter 52 awarded him, he is making great progress in pursuit of his Aircraft Single Engine Land Private Pilot License. In July, Isai passed his FAA PPL Written Exam with "flying colors" scoring an 87%! Just recently, Isia solo-ed in a Cessna 150. His Instructor also commented that while usually most student pilots get nervous when it is time to perform a power-off landing, for Isai "the glider training really helped".
Thanks to EAA Sacramento Chapter 52's Ray Scholarship, Isai plans to pass his PPL on his 17th birthday this upcoming summer.
2019/2020 Ray Scholar Carson Ballou -
Carson Ballou is 17 years old and a senior at Pleasant Grove High School. Carson has loved airplanes for as long as he could remember. He became a member of EAA Chapter 52 as a Young Eagle. Soon Chapter 52 recognized Carson's outstanding enthusiasm and positive contributions by sending him to EAA's Air Academy summer camp at Oshkosh Wisconsin. Ever since, Carson has been one our most active and committed members and now edits and produces EAA 52's newsletter – the Wing Flap.
EAA Chapter 52 awarded Carson's outstanding commitment and contributions to aviation by awarding him the $10,000 Ray Flight Training Scholarship. Carson passed his FAA written exam with an 86% and is ready for his Aircraft Single Engine Land check-ride. Carson's flight instructor has said that Carson is a natural at flying and noted that in the face of emergencies (some planned some not) he has remained calmed and safety flew the plane out of danger. He is confident that Carson will make an amazing professional pilot someday.
Thanks to EAA Sacramento Chapter 52's Ray Scholarship, Carson will pass his Private Pilot's License exam and begin 2021 as one of our county's newest pilots - and in the fall of 2021 Carson will be enrolled in Embry Riddle Aeronautical University on his way to becoming an airline captain! Congratulations Carson!
2018/2019 Ray Scholar Cedric Hughes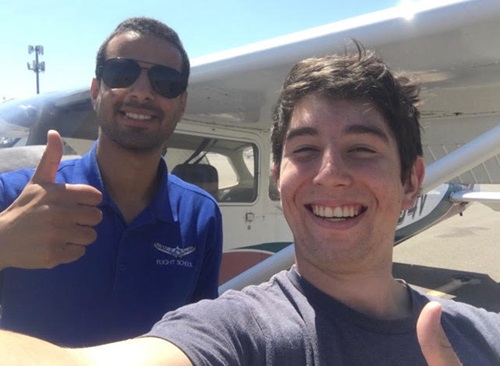 Cedric Hughes is now 19 years old and a first-year economics student at the University of California, San Diego. Cedric was EAA Sacramento Chapter 52's first Ray Scholar and nearly won the race to become the first Ray Scholar to achieve their Private Pilot's License. Before becoming our Chapter's first Ray Scholar, Cedric was attending all our events as well as EAA Chapter 1230's in Vacaville - and slowly getting flight training as his summer jobs would enable. His interest in aviation was really sparked when Chapter 52 sent Cedric to the EAA Aviation Academy summer camp at Oshkosh. Before the EAA Aviation Academy, aviation was something his dad tormented him with; after EAA Aviation Academy, Cedric spent his summer job income on flight training and an incomplete project airplane bought off Craigslist. He spent the next two years building his own KR2 airplane in his parent's garage (https://hugheskr2s.yolasite.com) and getting his Private Pilot's License with the help of the Ray Scholarship. While a Ray Scholar, Cedric went to AirVenture 2018 to join the Ray Scholarship Partner - LightSpeed Aviation - working the week in their pavilion at the show. Cedric hopes to fly the airplane he's building to the next AirVenture. Continuing his aviation training, Cedric spent some of this last summer working on his IFR rating.
Cedric's interest in aviation is the business of aviation. He would like to help lead the companies that usher in the new golden age of aviation enabled by technology and driven by gridlock in the 2D world. In the meantime, Cedric has started Sckedio.com which is focused on bringing designers, manufacturers, and customers together in a marketplace for ideas.