Chapter 512 members volunteer for a litter clean-up day along a 2-mile stretch of Highway 50 between Cambridge Road (Exit 34) and Cameron Park Drive (Exit 35). Chapter members must sign-up on a Participation List and watch a training/safety video to work on a clean-up crew. An email is sent to participants at the beginning of each month. Click > SCHEDULE 2023 to select a work day. Plan to meet at McDonalds in Cameron Park Drive and Coach Lane (near Safeway) to attend the 9 AM brief. We plan to work the 3rd Saturday each month. Members are asked to commit to a minimum of 2 Saturdays during the year for between 2 and 3 hours.
---
WB Crew - Crew walk from McDonald near Cameron Park Dr. to Hwy 50 and proceed westbound on the south-side shoulder facing traffic. Litter pick-up includes the off ramp and on ramp of Exit 35 on the south side. Walk to Exit 34. We will drop a car at Exit 34 to shuttle the crew back to Exit 35 at completion.
Start at Cameron Park Dr. southside Exit 35 end at Exit 34 Cambridge Rd. A shuttle vehicle will take you back to your car.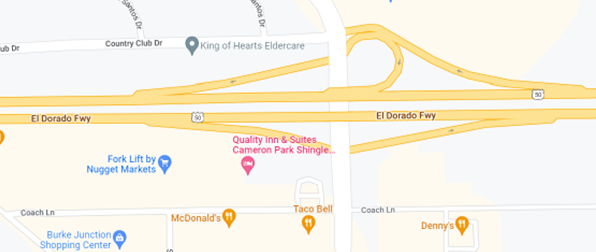 EB Crew - Shuttle crew to Cambridge Rd and work eastbound on the north-side shoulder. We will shuttle the EB crew to start at Exit 34. Litter pick-up includes the off ramp and on ramp of Exit 34 on the north side. Walk along the shoulder east bound facing traffic to Exit 35 and your car at McDonalds.
Start at Cambridge Rd. Park and Ride on northside Hwy 50 Exit 34 and end at Exit 35 and walk back to McDonalds.

All personnel are required to ware long pants, hiking boots, no sneakers or tennis shoes, gloves and a yellow or orange vest. Remain 6 feet from traffic lane. Do not cross any lane of traffic and do not work in the median. A sign-up form will be posted with a link on this page for each work date. The plan is to work one Saturday morning starting at 9 AM and finish by noon each month. Volunteers work a minimum of 2 times to a maximum of 12 times during the year. Tentative start date is September 17. Earlier start time based on consensus of group. Each crew consists of 5 to 6 people. EB crew start at Cambridge Rd park and ride to (walk Exit 34 to 35). WB crew start at Cameron Park Drive (Exit 35 to 34).
---
ADOPT-A-HIGHWAY PROGRAM

Training/video required *
Month
Date
Meet at McDonalds, 9 AM brief
# of Crew
Leaders
Nov
19
8:30
13
JW, JG, NR
Dec
17
8:30
click below to schedule work day
14
JW, NR
Jan
21
8:30

SCHEDULE2023

13
JW, NR
Feb
18
8:30
Mar
18
Apr
15
NOTE: No work party during inclement weather (rain, fog, snow or ice). Make-up day will be announced
* Contact Judi G for video training.. .