63rd Funday Sunday
May 1, 2022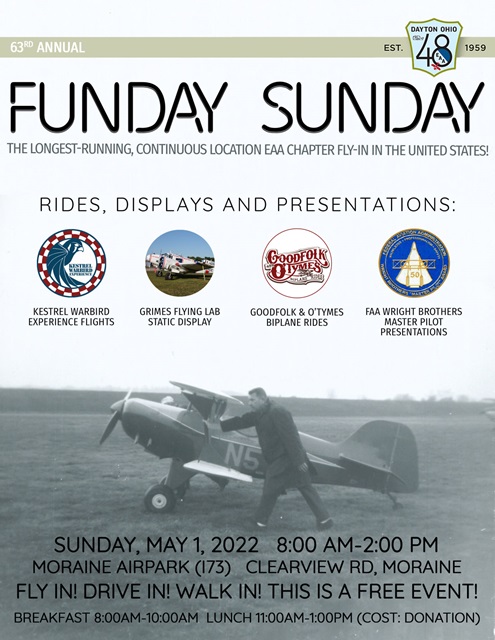 Come to Moraine Airpark (I73) in Moraine Ohio for its 63rd annual Funday Sunday Fly-In on May 1, 2022. Enjoy the longest running EAA Chapter Fly-In at the same location in the history of the Experimental Aircraft Association (EAA). Historically the first fly in of the season. See a large assortment of homebuilt, classic, and vintage airplanes. Interact with the pilots!.
Biplane rides with Goodfolk and O'Tyme
Rides on Checkers the T6
Grimes Flying Lab static display
FAA Master Pilot ceremony honoring 2 long time Moraine pilots.
Tentative Schedule of Events
Breakfast : 8:00 a.m. - 11:00 a.m.
Featuring Chapter 48's vastly improved pancakes and sausages!
Lunch: 12:00 p.m. - 2:00 p.m.