Thank you to all who came out to the 60th Anniversary Funday Sunday!
Sunday Funday was featured in the September Edition of Unusual Attitudes! Read Here
For some great images and videos check out the local news stories below as well as the EAA Facebook Page
Fox 45
WHIO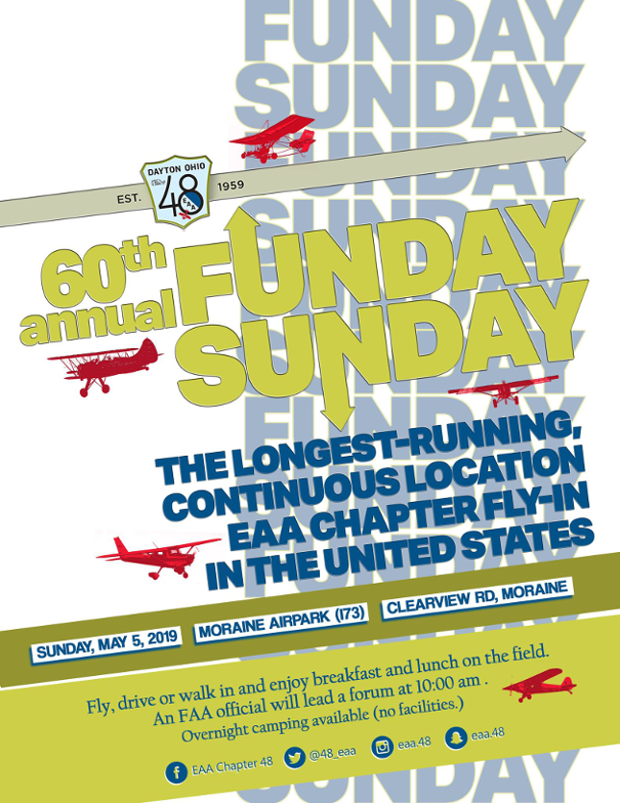 Funday Sunday !!!
Come to Moraine Airpark (I73) in Moraine Ohio for its 60th annual Funday Sunday Fly-In on May 5, 2019. Enjoy the longest running EAA Chapter Fly-In at the same location in the history of the Experimental Aircraft Association (EAA). Historically the first fly in of the season. See a large assortment of homebuilt, classic, and vintage airplanes. Interact with the pilots! Breakfast and lunch will be available, as well as biplane rides, FAA information forums, and more.
Spend the day with EAA chapter 48 for a wonderful and FUN 60th!!
Moraine Airpark will be offering a discount of $0.20 off per gallon of fuel for all participants of the fly-in.
All-Day Events
Bi-Plane Rides
Biplane rides will be available all day at the Fly-in from Good Folk & O'Tymes Biplane Rides.
More information: Good Folk & O'Tymes
Schedule of Events
Pancake Breakfast : 8:00 a.m. - 11:00 a.m.
Menu includes
Pancakes
Sausage & Bacon
Eggs
Coffee & Orange Juice
FAA Forum on Uncontrolled Airport Operations: 10:00 a.m
Presented by the FAA's Kirk McConnell.
WINGS Credit is available to attendees.
More information and WINGS registration : FAA Seminar
Wright Brothers Master Pilot Award Presentation: 11:30 a.m.
Four local pilots, including three based at Moraine, will be receiving the Wright Brothers Master Pilot Award during the fly-in.
This award is named after the Wright Brothers, the first US pilots, to recognize individuals who have exhibited professionalism, skill, and aviation expertise for at least 50 years while piloting aircraft as "Master Pilots".
More Information: Master Pilot Award
Lunch: 12:00 p.m. - 2:00 p.m.
Menu includes
Brats & Hot Dogs
Hamburgers
Pulled Pork Sandwiches
Pasta Salad
Baked Beans
Chips
Soda & Water