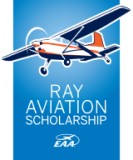 Through the generous support of the Ray Foundation, EAA provides up to $10,000 to deserving youths for their flight training expenses, totaling nearly $1,200,000 in scholarships annually.
The program is supported by more than 100 EAA chapters, and supports close to 120 scholars.
Paso Robles Chapter 465 qualified for one scholarship in 2020. Through a competitive process, it was awarded to Aiden Bajema, who obtained his private pilot certificate in November 2020.
We are currently supporting three Ray Scholars. Riley Wheeler, Jesus Ochoa, and Ava Miller have all solo'ed and are making good progress toward their private pilot license.
T