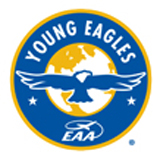 Founded in 1992, the Young Eagles program is dedicated to giving youth ages 8–17, an opportunity to go flying in a general aviation airplane. These flights are offered free of charge and are made possible through the generosity of EAA member volunteers.
It's the only program of its kind, with the sole mission to introduce and inspire kids in the world of aviation.
Today, the Young Eagles program has flown over 2 million kids.
For more information from EAA headquarters about the Young Eagles program, visit www.youngeagles.org
Our Chapter held its Young Eagles free flights 9 AM to 3 PM on Oct. 17 at Paso Robles Airport Terminal. coordinated by arrell Radford our Young Eagles Coordinator for more information at 805 464 9863 and we plan another similar even tin mid 2021
The Paso Robles Experimental Aircraft Association (EAA) 465 Chapter implemented its annual free Young Eagles flights for youth between 8-17. on October 17, 2020 We flew 96 young eagles between during the day, on a hot day, thanks to the support from EAA member pilots, and ground volunteers.
Aircraft flying included Mooney, Bonanza, Cessna, Comanche, and experimental planes. These were supplemented with static displays of model Radio Control, experimental, warbird, hot air balloon, and ultralight aircraft. Other aviation displays included Cal fire, California Highway Patrol, Mercy Air, Civil Air Patrol, Junior Pilots, Cloud Clippers.
The EAA 465 Chapter Team can be proud of the event which ended up being much more than the 96 new young eagles, but was also very much a community and "entire family event" with mothers, fathers, sisters, brothers, and even grandparents along for the day . This resulted in an estimated 350 participants including our Team, families, displays etc. The use of the EAA automated pre-registration program prevented the "bunching of youth arrivals" which been a problem before – as well as addressing COVID issues.
Activities like our Young Eagles flights can be help address some of the stress and challenges our community faces with COVID, and everyone fully respected the protective procedures we put in place to make the event safe to meet Town and Country guidelines and EAA National requirements. Many departing many expressed their appreciation for the event, and demonstrated this by leaving funds behind in the donation jar
Ray Scholarship Program
In 2020 Aiden Bajema, Templeton, CA, a Young Eagle member of Paso Robles EAA Chapter,received a unique full-scholarship opportunity for flight training and completed his Private Pilots License in December 2020, thanks to EAA Chapter 465 Paso Robles, and the Ray Aviation Scholarship program administered by the Experimental Aircraft Association in Oshkosh, Wisconsin.
The Ray Aviation Scholars' program provided Aiden with a $10,000 scholarships to young people who are seeking to learn to fly. The Ray Foundation has provided $1.2 million to fund the scholarship program, which seeks to improve the flight training success rate from the current industry standards of 20 percent to 80 percent for program participants. Local EAA chapters are responsible for identifying youth for the Ray Aviation Scholarship program and mentoring them through flight training. The Ray Foundation is furthering the legacy of James Ray, an EAA lifetime member who was dedicated to aviation and youth education.
·
Aiden Bajema took his training Air Paso Flight Services based at Paso Robles Airport. The scholarship is designed to support a flight student through both written and practical segments of flight training that are part of successful Federal Aviation Administration (FAA) pilot certification.
Our Chapter 465 is applying again to EAA to obtain two #5000 grants to finance 50% of the costs of two more of our young eagle to obtain a PPL. We expect toh hear if we have obtained the two grants by early February 2021. If we do we will be notifying our young eagles that they can apply if they meet minimum requirements. Questions can be directed to Dave Fretwell, Chapter 465 Ray Scholarship Coordinator 8c05 238 4970, eaa465@sbcglobal.net