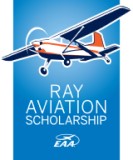 Through the generous support of the Ray Foundation, EAA provides up to $10,000 to deserving youths for their flight training expenses, totaling nearly $1,200,000 in scholarships annually.
The program is supported by more than 100 EAA chapters, and supports close to 120 scholars.
Our Chapter applied for and obtained a $10,000 scholarships in 2020 which was used to support one Young Eagle scholaror, Aiden Bazema, to obtain his pilot certificate.
We are currently applying for two $5000 scholarships to provide 50% of the cost of two more young eagles getting a private pilot license.
Eaa 465 has, since 2016 flown and has 482 young eagles members
'Chapter 465 is soliciting funds to support its overall aviation programs, in particular introducing and promoting aviation as a career and/or avocation for Chapter youth members.
Examples include the costs of: (i) providing YE introductory flights for youth in N. County youth, (ii) obtaining matching funds to help the Chapter gain access to a 2021 $5,000 grant from the EAA National office to finance selected YEs obtain a Private Pilot License (PPL), Details of the $5000 EAA PPL scholarship program can be found at https://eaa.org/eaa/eaa-chapters/eaa-chapterresources/chapter-programs-and-activities/ray-aviation-scholarship-fund/scholar-eligibility-andrequirements.
T