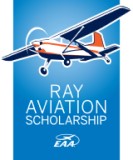 Through the generous support of the Ray Foundation, EAA provides up to $10,000 to deserving youths for their flight training expenses, totaling nearly $1,200,000 in scholarships annually.
The program is supported by more than 100 EAA chapters, and supports close to 120 scholars.
Our Chapter has applied for one of the $10,000 scholarships which can support one Young Eagle scholar in the form funding and mentor ship to help him or her earn their pilot certificate.
Chapter 465 is soliciting funds to support its overall aviation programs, in particular introducing and promoting aviation as a career and/or avocation for Chapter youth members.
Examples include the costs of: (i) providing YE introductory flights for youth in N. County youth, (ii) obtaining matching funds to help the Chapter gain access to a 2020 $10,000 grant from the EAA National office to finance selected YEs obtain a Private Pilot License (PPL), (iii) sending selected YEs to a summer Air Academy at EAA national headquarters in Wisconsin, and (iv) materials to introduce YEs to building, operating, and maintaining aircraft. Details of the $10,000 EAA PPL scholarship program can be found at https://eaa.org/eaa/eaa-chapters/eaa-chapterresources/chapter-programs-and-activities/ray-aviation-scholarship-fund/scholar-eligibility-andrequirements. The minimum amount we need to raise is $3,500 in matching funds for the EAA grant, but if we can raise $20,000 we can then finance several PPLs and summer Air Academy trips.
The Paso Robles Chapter 465 of EAA http://chapters.eaa.org/eaa465 started in the mid-1970s, currently has about 40 adult members with a wide range of backgrounds (i.e. vintage aircraft, building experimental aircraft, military and corporate aviation, and aircraft maintenance), and has over 300 youth "young eagle" (YE) members.
The Paso Robles Chapter 465 is a 501 © 3 non-profit organization and donations are tax deductible. Chapter 465 will provide donors with required documentation if requested. All funds donated will be managed by the Chapter 465 Board of Directors based on EAA national guidelines, will be placed in a special account which will be audited by a licensed account, and will be used to support programs outlined in the previous paragraphs. Funds can be forwarded to Chapter 465 via PayPal to eaa465@sbcglobal.net, or via check to Treasurer, EAA Chapter 465, 7460 Pinal Ave, Atascadero, Ca, 93442.
EAA www.eaa.org is a national non-profit community of about 250,000 passionate adult aviation enthusiasts, with over two million young eagle members, in about 300 local chapters. EAA's goals are to: (i) promote and encourage education of the general public about aviation safety in the design, construction and operation of all types of aircraft; (ii) support general and recreational flying, work to grow aviation, and get youth involved in aviation; and (iii) promote the design, construction and operation of all types of aircraft including amateur-built aircraft, aircraft restoration.
T