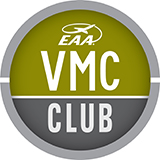 Our VMC Club offers monthly meetings in which pilots can network and share knowledge and experience. Marc Dart is the Coordinator of this program and can be reached for more details at 805 431 4748 or 805 239 4184
EAA Chapter VMC Clubs offer monthly meetings in which pilots can network and share knowledge and experience. It is intended that these Club meeting will be coordinated with our EAA 465 regular second Wednesday of the month meetings - starting in September.
VMC club discussions can provide an excellent real-life discussion of how to participate in our VMC past adventures (i.e. Catalina, Pine Mountain, etc.) and planned (i.e. Mojave, Columbia etc.) bi-monthly fly-outs
The meetings will use real-world scenarios to engage our members, and allow a free exchange of information that improves awareness and skills. The intent is to create a community of pilots willing to share information, provide recognition, foster communications, promote safety, and build proficiency.
Sample VMC Club monthly programming is developed and produced by EAA, but it is not intended to use a lecture or presentation format. Instead, an actual scenario is presented and is followed by a group discussion – so audience participation is encouraged! Since everyone has a different experience level and different airplane capabilities, we can all benefit from the discussion.
All EAA members are automatically eligible to take part in VMC and IMC Club programs in their local chapters. VMC Club is supported by Jeppesen.
EAA VMC Club Forums:
New to the EAA Forums? Join here.
To participate in the forum discussion click here.
This resource page is for EAA Members who are VMC Club Program Coordinators.
Get answers from experienced air traffic controllers. "Ask ATC" allows you to write your aviation ATC query, and post to our ATC panel in just a few taps.
See and find the growing number of chapters that provide VMC Club programming with our chapter map.
A step-by-step guide on how to start VMC Club programming in your area.
Members may visit this area for a variety of resources to help you build proficiency in visual flying.
Visit this area to search for other pilots, for the purpose of advanced instruction or pilots to ride along as a safety pilot.
Submit and share your instrument flight experience with your fellow VMC Club members. We will make it available as a scenario for other members and chapters for discussion.