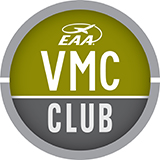 Our VMC Club offers monthly meetings in which pilots can network and share knowledge and experience.
The meetings use real-world scenarios to engage members, and allow a free exchange of information that improves awareness and skills. The intent is to create a community of pilots willing to share information, provide recognition, foster communications, promote safety, and build proficiency.
The VMC Club monthly programming is developed and produced by EAA, but it does not use a lecture or presentation format. Instead, an actual scenario is presented and is followed by a group discussion – so audience participation is encouraged! Since everyone has a different experience level and different airplane capabilities, we can all benefit from the discussion.
Regular EAA Chapter 441 VMC Club gatherings every 3rd Wednesday, 6:30pm at Jerry's house.
VMC Meetings have been deferred into 2021.
Keep an eye out in the newsletter for when these in-person meetings may return.

Learn more about the VMC Club program http://www.eaa.org/eaa/pilots/EAA-pilot-proficiency/proficiency-and-education-programs/vmc-club These real-world scenarios are oriented toward pilots who fly primarily under visual flight rules and under VMC.

Jerry Patterson has been gracious enough to host these gatherings at his home at Crest Airpark. 17656 SE 299th PL Kent WA 98042
RSVP to Mark to get on the VMC Club e-mail list, which includes a quiz question to study, with the answer revealed at the meeting.

Ma1owens@comcast.net Cell 206-390-0520