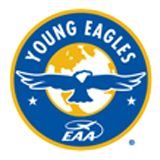 Are you between 8 and 17 years old?
Would you like a free ride in an airplane?
Then you need to become a Young Eagle!
The Young Eagles program is dedicated to giving youth ages 8–17, an opportunity to go flying in a general aviation airplane. These flights are offered free of charge and are made possible through the generosity of EAA member volunteers.The Experimental Aircraft Association Chapter 382 wants you to experience the enjoyment and adventure of flying! When you join us at the Greene County Airport for your introduction to flying, we'll explain how airplanes fly, show you how we make sure the airplane is safe to fly, and then take you up for your own personal flight where you get to sit right next to the pilot! Chapter 382 is planning 5 Young Eagle rally's in 2020. You can participate in more than one rally if desired. Preregistration is required for each rally. You need to be preregistered by your parent or legal guardian.
PARENTS/LEGAL GUARDIAN: To preregister, click on the 'Register For Event' button below. After filling in the registration form, print the liability waiver. Parent or legal guardian MUST sign this waiver. Bring the signed waiver to the rally. It has a unique ID for each child printed at the top of the form. It is required before flight. Once pre-registered we will plan on your child attending. If your plans change and you will not attend, contact Jan Duntz at janduntz@gmail.com. This will allow us to contact children on the wait list so they can fly. If you have any questions, contact Jan Duntz.
We want you to have a great flight, so we won't fly if the weather isn't friendly. If the weather makes us cancel on the rally date, we make every effort to fly the next day.
Children should arrive at the Greene County Airport terminal building at 8:00 AM with waivers already signed by their parents or legal guardian. Flying will be in order of sign in.
Bring sunglasses to wear.
For more information from EAA headquarters about the Young Eagles program, visit www.youngeagles.org