2022 Chapter 36 Ray Scholar:
Madison Richardson
January 2022:
Throughout the month of January I wasn't able to fly much as weather and schedules weren't lining up. However, we did do one flight on a day it was particularly windy to KMRB where we tackled landings and pattern work in 20 knot crosswinds. That opened my eyes on how much you truly have to play with the rudders and yoke when landing and keep control of the aircraft no matter what.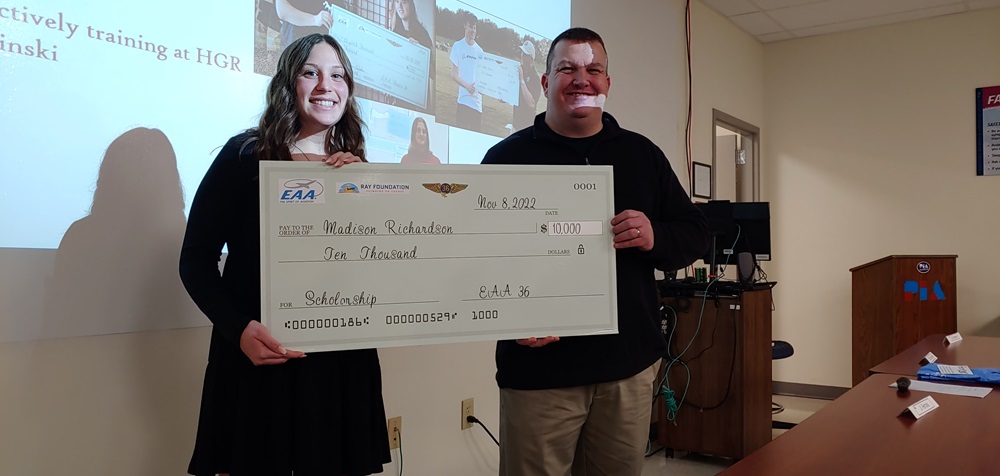 December 2022:

Hello, my name is Madison Richardson and I am the Ray Aviation Scholar for 2022. After applying in late June for this scholarship I was pleased to hear back in late august that I was the recipient. It felt so surreal to be given this large sum of money at such a young age to chase a huge dream of mine. My dream is to become a fighter pilot, I hope to be selected to attend the United States Air Force Academy and feel that this scholarship will help to increase my chances. I know that the selection process is very strict to get into the USAFA so my backup plan is to attend an aviation college and enlist in the Guard to continue to pursue my dream to fly as a career.
I turned 16 on October 25, so we were able to officially submit my application to the EAA for their final approval. Once I knew I was officially approved I took my first lesson at our lovey home airport of KHGR on November 14, 2022. It was the best experience ever, I got to do basic maneuvers and get the feel for the plane I am flying, which is a 1974 Cessna 172N. My flight instructor Joe Baginski, who has logged over 12,000 flight hours, was very supportive and helped me make sure I knew what everything that the aircraft did and how it worked during stalls, slow flight, turns, landings, etc.
I continued to fly weekly, if not multiple times a week, all through November and December. During my lessons we did many, many landings, and loops around the pattern. We also took a lot of scenic trips to Franklin County Regional, and we even flew to Martinsburg once. I was able to log some real IFR time and experience shooting an ILS approach into KHGR. I can say that this was a very eye opening and exhilarating experience and really showed me the importance of earning my instrument rating.
On December 14, 2022, after my third loop around the pattern with Joe I was told to "make this next one a full stop and taxi me back to your mom." Now, for all the fellow pilots reading this newsletter you can probably guess what was next. At 11 flight hours and exactly 1 month after I began flight training, I heard "that sentence". I taxied back to the fuel pump and Joe said, "Go solo, you got this."
With my stomach flipping upside down with joy and nervousness I taxied to the runway, made my call to the tower announcing that I was a student solo and took off on my first SOLO flight. It was the most exciting and nerve-racking experience I think I have ever experienced, and at the same time it was a life changing moment that I will remember forever! I am so thankful for everything this chapter has done for me so far and I am looking forward to all my flying adventures in the future! Safe Skies!