2021 Chapter 36 Ray Scholar:
Andrew Russell
July 2021 Update:
I am Flying! Thank you again! I have started my training. I am currently at sixteen hours of flight lessons. I am scheduled for three times a week at three-hour lessons. My instructor Anthony, thinks I will be soloing in a few weeks.
I have been very fortunate to have many people helping to guide me, on my journey to become a commercial pilot. Besides the EAA group, my family have two very close friends that are pilots, one is a commercial American Airline pilot and the other is a Private pilot that flies his own planes. Colonel Mike McCarty, is a friend of my parents that has taken me under his wing. Colonel Mike, learned to fly in the Marines. He is trying to talk me into joining the armed forces to get my training that way.
Since I earned my Eagle Scout during covid not many people were able to attend my ceremony. Undenounced to me, my parents had been in contact with a family friend from Hazard Kentucky. Mr. William Fields wanted to attend but it was not to be. Mr. Bill called my parents up on Easter Saturday this year and announced that he was on his way. My parents keep in contact with him during his flight and timed it so that we arrived at the Hagerstown Airport just before he landed. You may ask how did they get me to the airport? Well, I am still on my drivers learners permit so they tricked me into driving them to the airport by just saying that they were taking me out practicing. Then, since we were near the airport, we just happened to stop in to watch the planes land. There just happened to be a cute silver Swift airplane coming in and the pilot had a thick Kentucky accent. Wow, that plane looked just like the pictures of the planes that Mr. Bill owns, could that be Mr. Bill getting out of the plane?!!
The next morning, we got up early and Mr. Bill and I took off. We flew to Bedford but it was too windy to land so we came back to Hagerstown. Unfortunately Mr. Bill was not able to stay much longer so he had to head back home.
The EAA group also is another group of guys that are helping me learn more about flying, not only the actually flying but the actual planes. They are teaching me how to build a plane and about the maintenance that goes into owning one. I hope I will be able to make them all proud of the pilot I become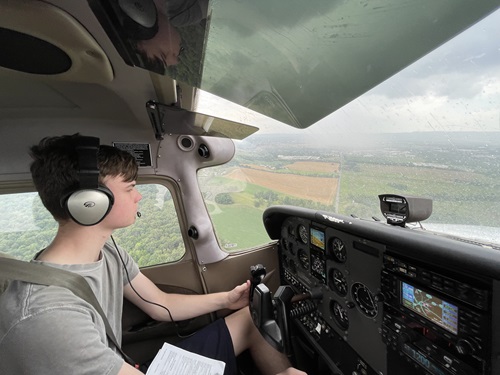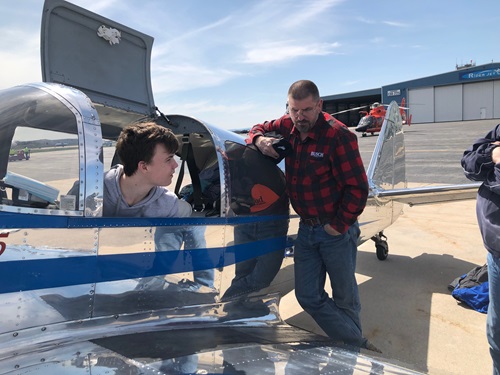 June 2021 Update:
First I would like to Thank You for granting me your scholarship. My name is Andrew Russell and I moved to Williamsport MD, six years ago. I have wanted to fly since I was a little boy, my parents think it is due to my Great Grandfather, he was a WWI pilot stationed in France.
I think my spark in aviation started when a modern-day Barnstormer had allowed my dad and grandfather to fly in his red biplane, and although I was very young this experience piqued my curiosity which eventually led to my desire to fly airplanes. To me aviation provides the capability to go anywhere on the planet. I am fascinated by the technologies that make modern reliable and safe. For these reasons I am convinced that I want to learn more about aviation by flying and advancing in flying different planes. Eventually I would want to fly commercial jets with Delta airlines.
Before flying in person, I had flown in a simulator where I had learned all about flight controls and flying a plane. The more and more I learned the easier flying became. Eventually I was able to take flying lessons and my instructor was impressed with my abilities. In addition to these lessons, I started taking aviation classes at the Community College of Baltimore County (CCBC). Currently I am taking aviation history which is allowing me to expand my knowledge with how aviation developed into today. Moreover, I had been active outside of my aviation activities with camping, hiking, and bike rides with my Boy Scout troop. Last year I accomplished becoming an Eagle Scout after five years of earning badges for a variety of activities as well as completing my Eagle Scout project at our local church. Since this occurred in 2020, I am proud to say that I am a Covid Eagle. One of the virtues of getting this rank is the trustworthiness I demonstrated to my troop my parents, and my community. Furthermore, I showed dedication by continuing to consistently earn the badges required and even more. I believe I deserve the scholarship because of my dedication to becoming a pilot and that I am trustworthy enough to use the scholarship funds wisely to get my private pilot's license.
My dreams after high school will be to attend college and earn a degree in Commercial Pilot. I have already attended Liberty University's College for a Weekend event and was able to attend five college classes on aviation (safety, ethics, commercial ground, weather and aviation foundations). I have applied to six colleges that offer a pilot program and waiting to hear if I've been accepted. I want to eventually become a pilot for Delta airlines flying large commercial jets. I have had my eye set on this goal for as long as I can remember. My goal for senior year in high school is to earn my private pilot's license. I would like to live in a hanger and have my own plane. The plane I would like to own is a taildragger aerobatic plane (stunt plane) so that I can enjoy performing flips and barrel rolls.