2020 Chapter 36 Ray Scholar:
Aidan Bedwell
July 2021 Update:
July has been a very exciting month for my flight training! The first week of the month saw me preparing with Hoa, practicing maneuvers and emergencies. There was also a good bit of grounds, making sure the paperwork was all ready for my check ride. After canceling due to weather a week prior I ended up having my stage 3 check the day before my checkride. I was prepared and the check went very smoothly with Brenda saying I did well and would do well on the check ride. The next day I woke up early and had my check ride with Lee Jones. The ground portion of my test went very smoothly and after a thorough preflight Mr. Jones and I took off towards MRB on a route he had picked for me and I had planned for. After a diversion to the practice area south of MRB and a demonstration of some maneuvers we returned to FDK. After a few landings I had done it and we taxied back to park the plane.
Later that day I went on my first flight as a private pilot to KHGR where I attended the r/c build and fly meeting. It was a very smooth flight with a beautiful sunset and the first time my girlfriend had been in a small aircraft.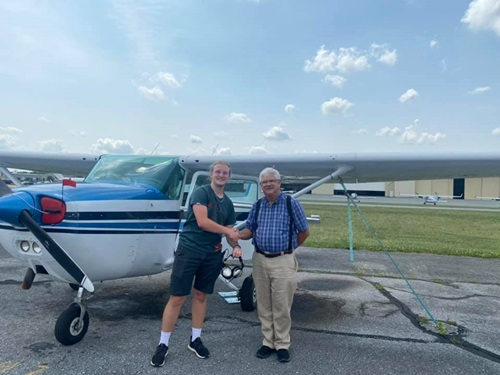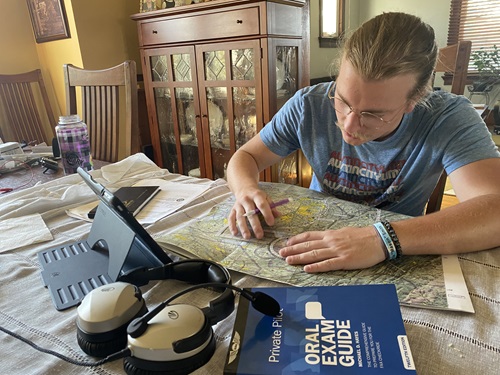 June 2021 Update:
This month I got several flights in and finished off all of my solo time requirements. My first flight was my long cross country which took me from Frederick to Charlottesville, then Martinsburg, and finally back to Frederick. The flight went very smoothly besides some low clouds I had to avoid near KCHO. Having completed all my cross country solo time, the remainder of my flights in June were local solos where I practiced my landings or flew around the practice areas near Frederick.In the later part of this month, I have been in North Carolina but have been studying for my upcoming check ride and the preparation my instructor and I will do. I also got to visit the first flight monument, which was very interesting.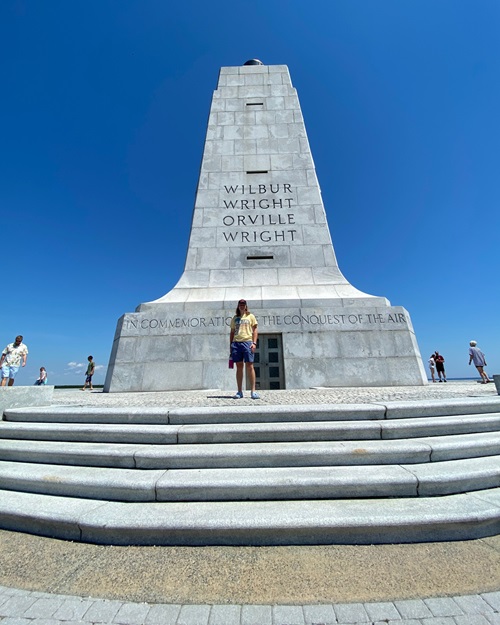 May 2021 Update:
May has been an exciting month is my flight training. I completed my first solo cross country, a short hop from Frederick to Lancaster and back. The flight went very smoothly and was definitely a huge bode of confidence. I am also looking forward to, very soon,completing my long cross-country flight. Because of president Biden's frequent use of camp David, Hoa, my flight instructor, and I came up with an alternate route (KFDK, KCHO, KMRB) instead of our originally planned route (KFDK, KLNS, KMRB) that I can plan to use if the P40 is expanded when I am next planning my flight. Unrelated to my flight training May has been a very eventful month; between prom, the last day of school, lacrosse, and graduation practices, I have had a time of great change but also lots of fun. I am looking forward to getting my final flight requirements knocked out so I can focus on preparing for my check ride.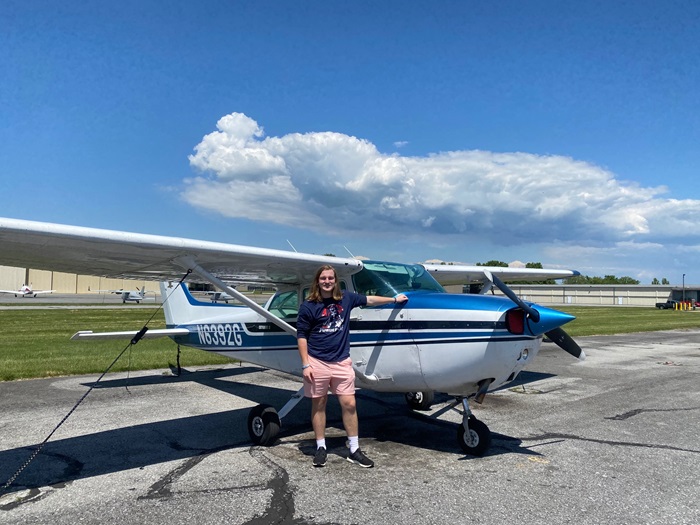 April 2021 Update:
April was a more active month for my flight training, and I am definitely coming up at the end of my private pilot training. Flying in early April consistent of dual training and solo pattern work to make sure I am staying comfortable alone in the airplane. Throughout later April, I have been trying to go on my first solo cross country; however, the weather has been a canceling factor on a number of those flights. My most recent flight with my flight instructor was a no-go solo day because of winds, but we still went up, and I practiced my simulated IFR under foggles to fulfill my three-hour time requirement I have almost completed. As I was leaving the airport that day, I saw a helicopter (Sikorsky S61-N) that I had never seen before. I have continued to stay engaged with the R/C build and fly program, and I love helping the boys in that group prepare for the maiden voyage of their plane by working with them on the simulator. Unrelated to my flight training this week, Spring sports have begun at my school. Five days a week, I play lacrosse for my school, and thankfully, due to school being online, I can fly more in the mornings, so there is no conflict.
March 2021 Update:
Yesterday I arrived in Florida for a family spring break vacation and things have been a bit crazy. In March I was not able to fly very much however I passed my written exam! I got a 90%and I'm very excited to have that completed. I have planned and canceled due to weather a few dates for my first solo cross country to Lancaster. I have been attending the r/c build and fly where I help the kids practice flying in a simulator. We have been able to simulate an aircraft very similar to the plane we are building and most of the boys in the class have made some good, safe landings. On 3/27 I flew to Florida (ft. Lauderdale) from BWI for spring break and I will be spending the week here with my family
February 2021 Update:
Despite not having many opportunities to fly, I have been very productive this month. My first flight of the month saw me passing my stage two flight check, which weather canceled in January. During the flight, I demonstrated my ability to handle emergencies such as an engine out and engine fire and demonstrated a diversion. After diverting to MRB from our previously planned course, I demonstrated some Short field and soft field landings. After departing Martinsburg, I navigated back to Frederick using VOR's and ended on another soft-field landing; overall, a very successful flight! I've also been able to fly with Hoa to prepare for my long cross country. Throughout the month, I've continued studying for the written test and will be taking it this month. I have returned to in-school learning for half the week in personal news, an adjustment from just rolling out of bed to get on a virtual class.
January 2021 Update:
This month has been productive and a lot of fun. I have flown several times working on untoward field communications, VOR Navigation, short field and soft field landing, and power-off 180s. On Tuesday the 19th, I completed my stage two ground check; however, I could not complete the flying portion that day due to high gusting winds. My flight check is scheduled for the thirty first. In more personal news, I was accepted to North Carolina State University and the University of Colorado at Boulder earlier this month, and I found out I had my decision for admittance to Georgia Tech deferred to mid-March.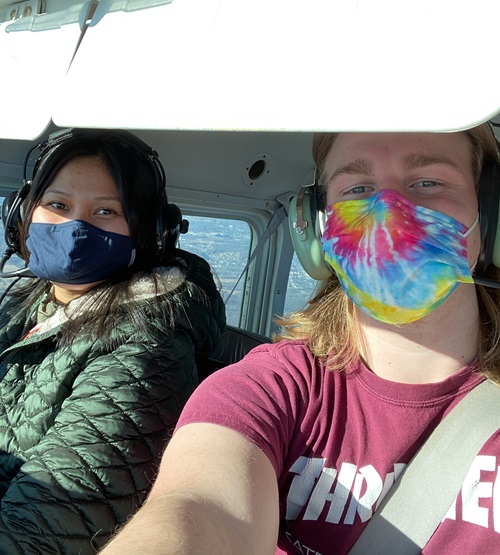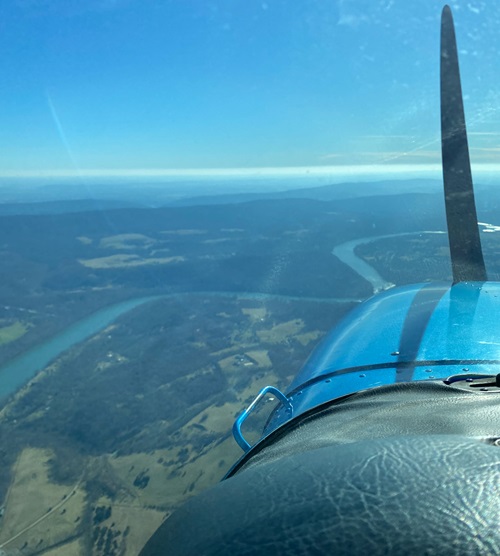 December 2020 Update
This month, I have been traveling, and the holidays have been hectic. After flying some at the beginning of the month, I left on 12/9 to go to Colorado and ski for my birthday on the 10th, and I am now 18. After returning home, we quarantined for a few days and got tested because of the risk of exposure at the airport. I recently got negative results back and had my first lesson today. Because of gusty winds here in Frederick, I was unable to fly today however I was still able to tour the new hangar and maintenance facility run by Bravo. I learned more about the inner workings of our aircraft from the mechanics there. I am studying for my written test, and my stage two check before solo cross country flights.
November 2020 Update:
I have been flying as regularly as possible, but the weather hasn't been the best and has forced me to cancel several flights. I completed my night cross country Two Saturdays ago, and I have otherwise been staying in the pattern at Frederick to work on my short field and soft field landing and engine off 180s. Despite the weather, I have had a very good time flying this month, and I'm looking forward to my lesson today at 3:00.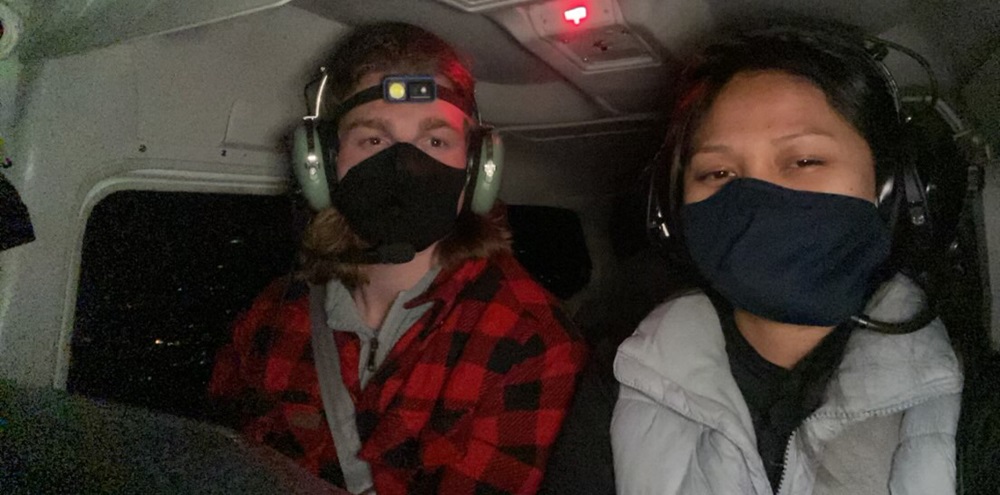 October 2020 Update:
On October 10th, I completed my first solo doing 2 full stop landing on my own. On October 17th, I completed my first cross country, flying from Frederick to Lancaster and back. On other days like Sunday, when the weather wasn't great, I trained in the pattern and did groundwork such as looking through maintenance logs and the POH to prepare for my written and check ride.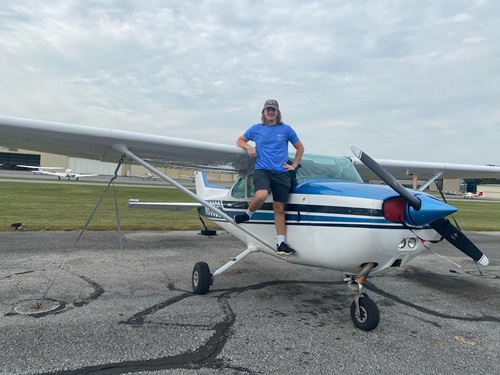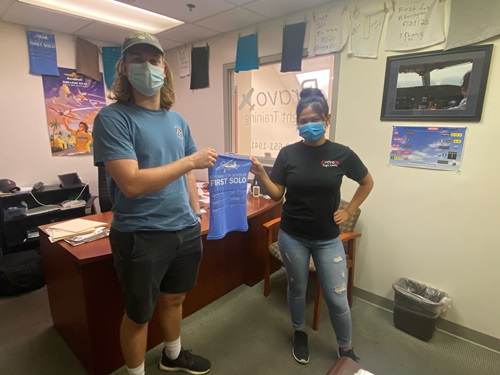 September 2020 Update:
Aidan, 17, is a senior at Governor Thomas Johnson High School in Frederick, MD. Aidan's passion for aviation took off at the age of 11 when he discovered his grandfather's radio-controlled airplane in their attic. His enthusiasm for RC planes led him to attend Flite Fest in Ohio. Aidan's academic interests gravitated toward engineering—designing drones through the CAD engineering program at Frederick County's Career and Technology Center. The commitment to aviation continued with flight lessons through Frederick Municipal Airport's Bravo Flight Training where he is slated to accomplish his first solo flight any day now. The letters of recommendation that accompanied his application packet speak highly of a motivated young man who accomplishes tasks at a very high level. His interest in our chapter's activities is evident as he has already started attending Build Nights—eager to help out and excited about our upcoming YE Build & Fly project. Please join me as we welcome Aidan to our EAA Chapter 36 family, congratulate him on the scholarship, and help him become another aviation success story and celebrate his milestones and accomplishments.