2021 Fly-Outs:
June
On Saturday, June 26nd, two airplanes and five members flew over to Reading Regional Airport, Reading, Pennsylvania (RDG) for lunch at Klinger's at the Airport. Ray Franze, Gary Keller and Gil Motz flew in the Chapter 36 Flying Club's Cessna 172, N8223U; and Mark and Sandy Hissey flew over in their Piper Archer, N8097Q.
Mark and Sandy stopped at the self-serve fuel pumps and the guys in -23U took advantage of the opportunity to get a much needed head start. Ray filed IFR and shortly after departure -23U was climbing through the clouds nearing the HGR VOR and during the turn to the northeast. Eventually Mark and Sandy popped up on ForeFlight and it wasn't long before they were out in front thanks to the extra horsepower. Of course, flying IFR we had to go out to the VOR before turning toward Reading while VFR departures were able to proceed on course right away.
The air was smooth at altitude except when bouncing through the clouds. During the approximately 75-minute flight in -23U, the clouds were building up to the point that we were no longer skipping through the tops but closer to the middle. This prompted a few requests to ATC for heading deviations and a climb. The winds werestrong and gusting at RDG, but for the most part they were right down the runway (Rwy 18). I can tell you that slow and steady does not win the race—the guys in -23U arrived at RDG to find Mark and Sandy pointing at their watches having already sent us text messages to let us know they made it to the restaurant. I think Mark even did some S-turns at altitude followed by some slow flight paralleling our course before leaving us behind. Fortunately, he was high enough above us wake turbulence wasn't an issue.
We were able to get a table right away inside the restaurant, which does also have outside patio seating. Our waiter did a great job checking on us often—although I'm sure it helped they only had 3-4 tables worth of customers. My burger was delicious, and their chips are unique—the texture reminded me of Rice Chex cereal and they are seasoned.
The airport restaurant is in the main terminal building adjacent to the Air Traffic Control tower. When it's time to leave, look for the "Do Not Enter" signs above the doors going out to the ramp, and go through them. Reading has two FBOs, one closer to the terminal building. They do not have self-serve fuel, and the fuel price is approximately $0.50/gallon more than the self-serve at Hagerstown. The folks in the tower were friendly andgreat to work with coming in and heading out.
Coming back both planes flew back VFR below the clouds; comfortably flying between 2,500' and 3,000' with Flight Following the whole way back. Due to the ridges, we flew west toward Harrisburg and then followed I-81 through the valley. A few scattered rain showers were easily avoided and the air was pretty smooth down below as well.
Perhaps the next time we plan to fly over to Reading we include time to visit the Mid-Atlantic Air Museum, which is on the field. Due to AirVenture, we won't have a scheduled "Fourth Saturday Flyout" in July. Come join us in August (28th)!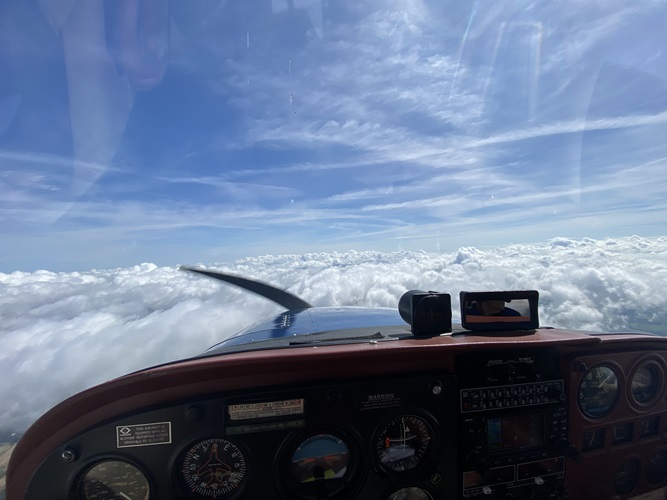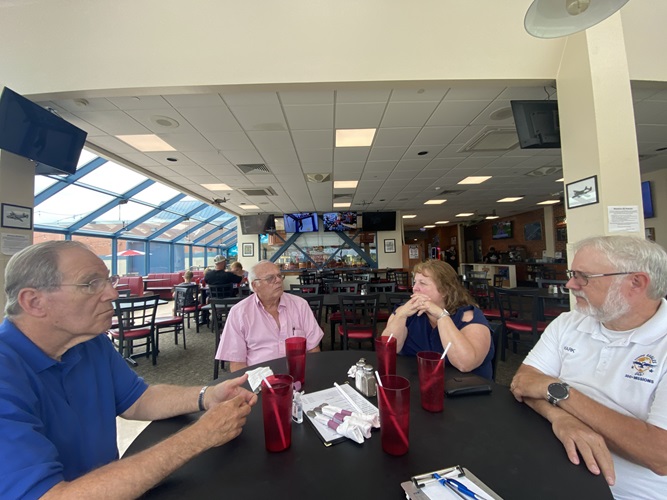 May
On Saturday, May 22nd, two airplanes and six members flew over to Maryland's eastern shore for breakfast at Sugar Buns Airport Café, Easton Airport (ESN), Easton, MD. Ray Franze, Gary Keller and Joe Boyle flew in the Chapter 36 Flying Club's Cessna 172, N8223U; and Austin Colby flew his wife Brittany and daughter Mackenzie in his Cessna 182, N20761. VFR conditions prevailed, but Ray and Austin both filed IFR for the flight over which simplifies the process of flying through the SFRA and Class B airspace.
-23U departed HGR first but of course over time Austin's -182 caught up to the flying club's underpowered -172. The downside to both planes being IFR was the required separation ATC had to provide so -761 got someadditional vectors for spacing and an eventual climb to 6,000.'
The air was exceptionally smooth at altitude and the route of flight over to Easton took both airplanes between downtown Baltimore and BWI where the guys watched a steady stream of Southwest Airlines flights departing Runway 28 with more taxiing out for departure. As -23U was starting to cross the Chesapeake Bay at 5,000' it was treated to a Southwest Airlines 737 passing underneath as it began its final turn back toward BWI. Traffic was busy at Easton but both planes were able to enter the pattern and land without any issues as Easton's controltower did a great job managing it all.
We were able to get two tables right away inside the restaurant, which does also have outside patio seating. When in Rome, do as the Romans do. If you go to Sugar Buns Airport Café, you "have" to get the sugar buns. Once again, they did not disappoint! Austin and Brittany were smart and also got a couple to go. The service was a bit slow and disappointing but I'm pretty sure they only had one waitress available and there was a steadystream of customers after we arrived—and the manager (owner?) seemed to be making things worse for the poor girl. The meals were very good and we learned they "don't have sides [of chipped beef gravy],' so if you order one be prepared for a full serving. The camaraderie was second-to-none which typically provides more value than the meal itself.
Maryland Air had -23U topped off with fuel shortly after we arrived so all we had to do was pay for it on our way out. Their really nice FBO has numerous aircraft hanging from the ceiling with several having ties to the state's historical aviation manufacturers like Fairchild and Glenn L. Martin. By the time we were ready to depart, the ramp was full of aircraft that flew in for breakfast at Sugar Buns.
Austin and his family departed first, with Gary and the guys departing right behind. Gary flew the return trip in -23U with Ray handling the radios to coordinate flight following and navigating the busy airspace. Potomac Approach cleared us through the Class B airspace before we asked for it, and our route back took us right over top Martin State Airport (MTN), a public airport that also has the Maryland Air National Guard's 175th Wing, and their A-10 fleet below. Although P-40 was expanded and "hot," we flew through the outer ring of the TFR (5-10 nm radius) which was acceptable because we had a unique squawk code and talking to Potomac Approach. They just told us to keep that squawk code all the way to the ground when they handed us off to Hagerstown tower.
While Easton and its sugar buns were the destination and goal, getting to fly others through an area of busy, relatively complex airspace and constant radio chatter while watching airlines depart off your wing and arrive right below you—as well as flying through an active TFR without an F-16 intercept because you're doing it properly—is a reminder that often times it's the journey, not the destination that matters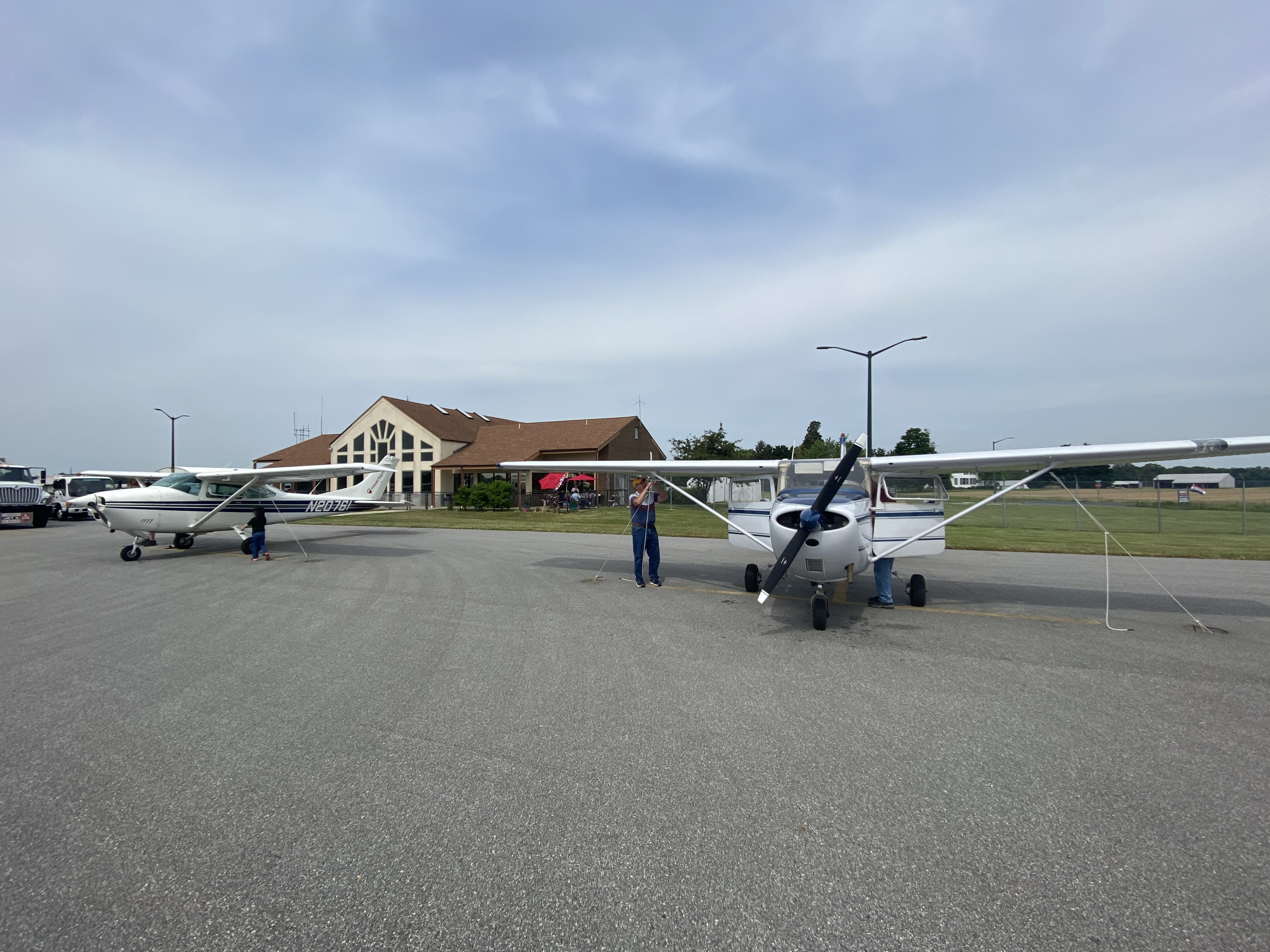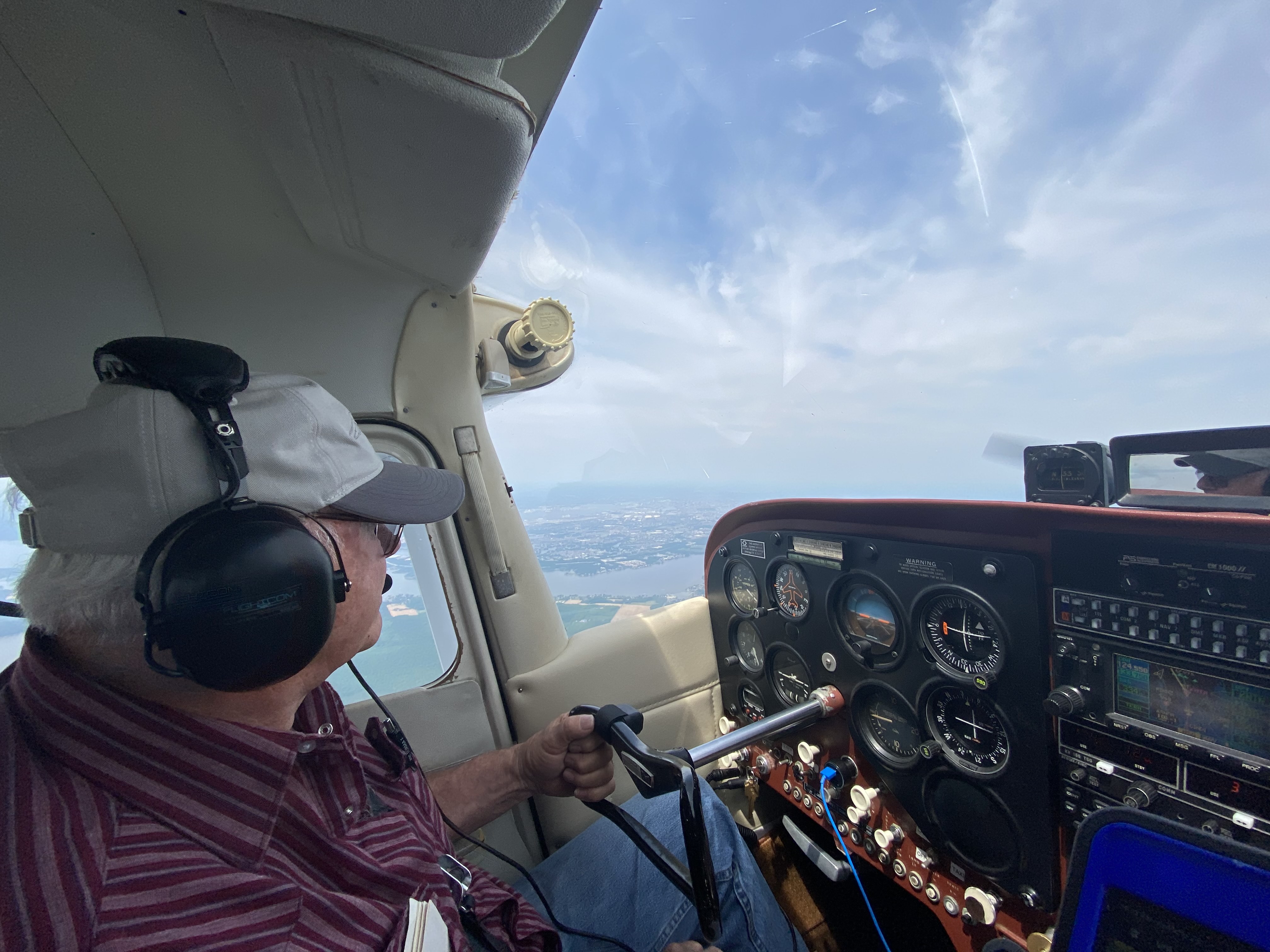 2020 Fly-Outs:
September
PIREP: "Fourth Saturday Fly-Outs" – LNS (Sat. Sep 26, 2020)
EAA Chapter 36 continued its "Fourth Saturday Fly-Outs" with an afternoon flight to Lancaster Airport (LNS) for lunch at the on-field Italian restaurant, Fiorentino's. A look at the 10-day forecast on Monday, for both Hagerstown, MD and Lancaster, PA, showed very favorable conditions for a likely VFR flight up on the upcoming Saturday. As many as four aircraft and ten individuals were looking to make the flight—including our Ray Aviation scholar and his instructor who would join us during a cross-country training flight.
The Area Forecast the evening prior called for relatively low overcast skies with cloud tops ranging from 6,000-10,000 feet. In the morning, Hagerstown and areas to the North/Northeast were reflective of the Area Forecast. The conditions were certainly not ideal for sightseeing passengers or VFR-only operations and as such, the reduced turnout was understandable. Conditions were discussed concerning the types of clouds, stability of the atmosphere, propensity for smoothness vs turbulence, freezing levels, NOTAMs and viable options. Curtis and Ray, two of the chapter's instrument rated pilots decided conditions were within their capabilities and comfort level to keep LNS as the destination.
Ray and Gary were the first to depart HGR in the Chapter 36 Flying Club's Cessna 172. After a decent wait on the ground, Curtis and Pete departed in Curtis' Cardinal. We were breaking out on top of the clouds between four- and five-thousand feet MSL. Once leveled off at five thousand feet, we enjoyed the breathtaking views of being on top of an overcast layer with blue skies and sunshine. Occasionally we were in and out of clouds at that level.
There wasn't any banter on an air-to-air frequency as both planes were dialed in with Potomac and Harrisburg TRACONs on an instrument flight plan. But we could hear each other checking in on frequency and responding to instructions from ATC.
Despite the weather, LNS was pretty steady with inbound and outbound traffic. We figured Curtis and Pete would end up landing first despite leaving last due to their speed, but Ray and Gary were put behind everybody—"Cessna -23U turn left heading 020, vectors for sequencing, you're number four into Lancaster."
LNS had low overcast, but the ceilings were several hundred feet above minimums for the approach and both planes were able to land at LNS without any issue. Fiorentino's is located at the main airport terminal building; and we were seated at a table on the outside patio under cover as soon as we arrived. I'm sure the weather helped make it easier to get a table right away.
While awaiting our pizzas, Twisted Mac, and flatbread sandwiches, we were able to observe other aircraft landing, smell the sweet smell of burnt kerosene as Southern Airways' Caravan taxied in, and simply enjoy the camaraderie of another flyout.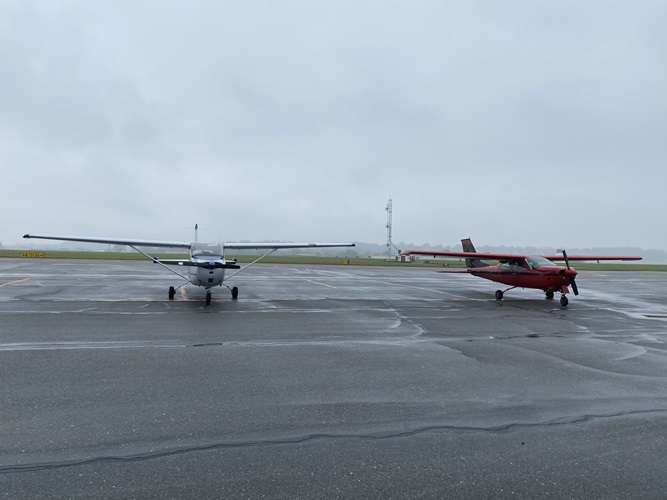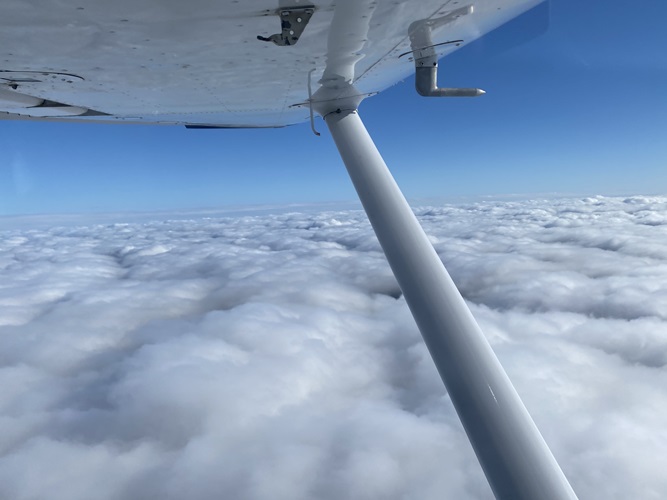 August
PIREP: "Fourth Saturday Fly-Outs" – CBE (Sat. Aug 22, 2020)
EAA Chapter 36 kicked off its "Fourth Saturday Fly-Outs" with a morning flight to Greater Cumberland Regional Airport. Reduced seating capacities at PA restaurants (including outside per the airport restaurant) and a forecast for afternoon scattered convective activity caused the plan to change from a lunch flight to Lancaster, PA (LNS) to a breakfast flight at Cumberland (CBE).
The area saw widespread low-lying clouds; and Cumberland's visibility was low at the time we all made our way to our hangars. Upon hearing of the rapidly improving visibility, seven members climbed aboard four aircraft and departed for breakfast.
Austin burned the most fuel taxiing down to Rwy 27 in his Cessna 182; the rest of us departed from Rwy 20. In a perfectly descending order, Curtis and Kate departed in their Cessna 177 Cardinal, followed by Ray and Gary in the Chapter 36 Flying Club's underpowered Cessna 172. Bringing up the rear was Mark and Sandy and the lone Piper to make the trip.
Some good banter and important pre-arrival coordination were discussed enroute over the air-to-air frequency. Despite the low-lying clouds in the valleys and the high overcast, the city of Cumberland and its airport was basking in the morning sun as all four aircraft approached. Mark and Sandy enjoyed the last laugh—despite being the last ones to depart, they were the first to arrive.
Hummingbird Café is located behind the airport's terminal building; but pilots are still able to taxi up to the parking area beside the restaurant. Due to arriving just as the restaurant opened, the group was able to get seated right away. From breakfast sandwiches to omelettes and French toast, the meal was delicious—and the prices were very reasonable. The only regret was not getting a funnel cake to go to have for the ride back!