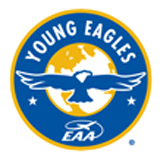 Founded in 1992, the Young Eagles program is dedicated to giving youth ages 8–17, an opportunity to go flying in a general aviation airplane. These flights are offered free of charge and are made possible through the generosity of EAA member volunteers.
It's the only program of its kind, with the sole mission of introducing kids to the world of aviation and inspiring them to explore its many aspects of flying, building and maintenance of aircraft that can provide joy and/or rewarding careers for a lifetime.
Through 2019, Chapter 344 has provided free flights for more than six thousand eight hundred Young Eagles!
Since inception, the national Young Eagles program has flown over 2 million kids!
For more information from EAA headquarters about the Young Eagles program, and to find dates and locations of Young Eagles rallies near you, visit www.youngeagles.org or the EAA Event Calendar at https://www.eaa.org/eaa/events.