EAA AIR ACADEMY SCHOLARSHIP
Our Chapter periodically offers opportunities for area young aviation enthusiasts (12-18 years of age) to participate in EAA's Air Academy (Oshkosh, Wisconsin). Three camp levels are available - Young Eagles Camp (12-13 yrs) and Basic Camp (14-15 yrs). Campers learn fundamentals of flight, participate in a variety of hands-on activities, tour the EAA museum campus, and experience the thrill of flight.
Click link at right to apply: <2023 application form coming soon>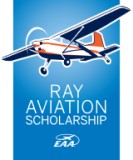 Through the generous support of the Ray Foundation, EAA provides up to $10,000 to deserving youths for their flight training expenses, totaling nearly $1,200,000 in scholarships annually.
The program is supported by more than 100 EAA chapters, and supports close to 120 scholars.
Each year, our Chapter participates in the Ray Aviation Scholarship competition and partners in supporting one scholar. For powered flight training, scholars must be between the ages of 16 and 19; for gliders, 15 years of age. Scholarship winners receive funding and mentorship to help him or her earn a pilot certificate.
$10,000 Flight Training Scholarship EAA Chapter 33, through the generous support of the Ray Foundation, is looking to award a deserving youth up to $10,000 for their flight training expenses. Whether you've already started your training, or you've been dreaming of starting flight training – we want you to apply! Apply today on our website! https://chapters.eaa.org/EAA33/Ray-Aviation-Scholarship We look forward to your application! If you have any questions, contact us at: scholarships@eaa33.org
Eligibility Requirements -
Age 16-19 for powered flight - Age 15-19 for glider training - Possession of a student pilot certificate - Possession of FAA medical certificate (private pilot student) - Able to begin flight training within 60 days of receiving the award
Application Requirements -
Complete the application form available at the link below - Submit one letter of recommendation (no immediate family members) - Meet all eligibility requirements
Application period opens:

February 1, 2023
Application window closes:

April 12, 2023
Finalists to be notified by:

April 15, 2023
Expected award notification:

April 28, 2023
Flight training commences:

May 12, 2023
Click link at right to download the application: Ray Aviation Scholarship Application