---
EAA 32 Newsletter
President's Corner By Bill Doherty
October Meeting Minutes
Learning as We Go - "Another Great Year" & "The Countdown Begins" by mr. bill
Aviation Explorer Post 9032 Activities as of November 15, 2022 - Update
Editor's Corner
EAA Chapter 32 Banquet & Wilbur Wright Presentation to be held during the evening, on December 10, 2022
The Rooftop Dakota: The story of the BEA C-47 By Dario Leone, March 24 2019

To Everything There is a Season: (Parting With My RV6A) Ron Burnett

Go to the November 2022 Newsletter
---
Next meeting
2022 Holiday and Chapter Recognition Awards Banquet
Saturday, December 10, 2022
4:30pm Social Hour
5:30pm Dinner
Where: Creve Coeur Airport
14301 Creve Coeur Airport Road, St. Louis MO, 63146
For more information and reservations form, click here.
EAA Chapter 32 General Meeting: Saturday, January 21, 10am

Meeting Time: 10am
Location: Aviation Resource Center
6410 Grafton Ferry Road
Portage des Sioux, MO 63373
Follow this Map to: St. Charles County Airport / Smartt Field (KSET)

---
Young Eagles Rally

Young Eagles: Completed for 2022

EAA Chapter 32 has completed the Young Eagle Rallies for 2022. Please join us again next year, starting in April 2023 for the next events.
Thank you to all the volunteer pilots and volunteer ground crew that made this season another success!
If you want more information on the Young Eagle Program, see the Young Eagles page for details.
---
Aviation Badge Workshop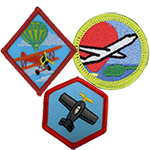 Aviation Badge Workshop: Completed for 2022
Thank you to all the EAA Chapter 32 volunteers that helped with set up and tear down of the classroom setting. Thank you to all the scout leaders and parents that brought your scouts to this event that made the Aviation Badge Workshop a success again this year.