Newsletter and web site advertisements are free for paid-up Chapter members. There is a fee for non-member advertisements appearing in our newsletter and on this web site of $25. Newsletter ads will be limited to 5 lines, with no space limit on this web site. The advertisement will be posted in the newsletter for 3 months, and longer upon request by the vendor. Extension requests must be sent to our Newsletter Editor, Richard Guevara.
---
Looking for partner
I recently purchased a Beechcraft Bonanza G35. It should be Certified Canada within a couple of weeks. I'm looking for a partner, half owner or maybe less than that.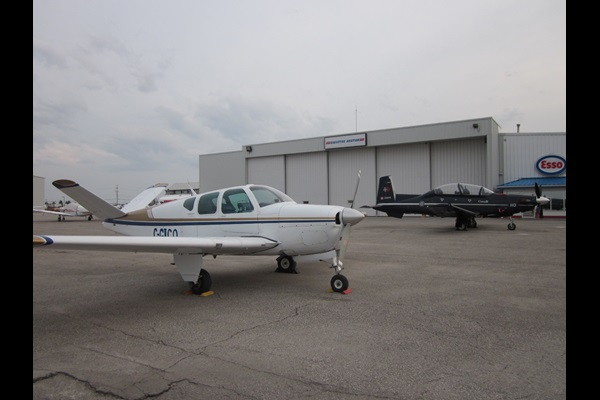 ---
For Sale:
Polyester fabric Oratex UL600 for experimental aircraft category. Buy it and install it. Nothing to apply. Paint, UV protection already in fabric. 8 color choices. Contact Luc Robillard at (514) 366-7500 or (514) 298-3459 (C) or via E-mail
---
For Sale:
Durand Mark V homebuilt on floats. Negative stagger wing all metal two seat biplane. Lycoming O-320 160 hp engine and new propeller. Built in 1989 and has relatively few hours on it. Wings are being adapted (leading edge and trailing flaps) for easier water landing. Plane is in Eastern Townships, Quebec. Contact: Bud Hickey at 613-938-7802.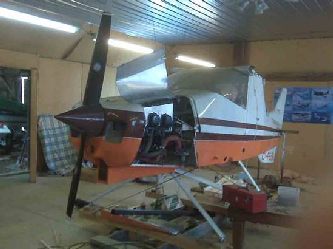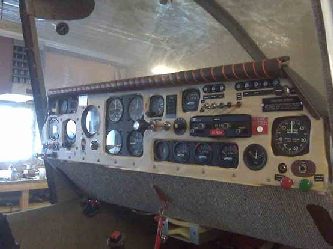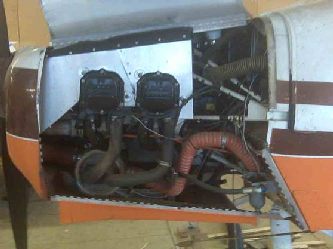 ---
For Sale:
Brand-new Super Rebel Tri-gear kit that can be upgraded to a Moose, selling for $24,000 (list price is $50,000). Contact Gerald Crouse at 506-455-5527 or email
---
For Rent - Hangar Space:
7,000 sq. ft. building at Lachute Airport. It is located on l'Aeroparc Boulevard (just after the restaurant). With access to the runway, it is heated and it has two separate offices in the front with one common entrance, and 42' hangar door. If anybody is interested in renting part of the space, for airplane storage or commercial use, please contact me for details. Call Humberto Dramisino at 450-510-1400 (O) 514-581-5577 (C) 514-227-8059 (Fax).
---
Block Time
Available on a Piper Cherokee 140. Call Steve at 450-829-3712
---
Free For The Taking!
Twin Ultralight Project, Partially Completed. Frank Hofmann is looking for someone interested in finishing this twin-engine aircraft, which was designed around the then existing Ultralight rules, with an Empty Weight of 254 lb. It is designed to carry two people side-by-side. The wings are designed to fold back along the booms for storage.
Engines can be around 15 HP each, or there may be something better available today. It is all metal construction. Most drawings are available to complete the project . The builder needs to be inventive, but Frank would be glad to advise the builder. It is "Free for the Taking". If the Clecos go with it, the Frank would like a few bucks for the Clecos, etc. For further information call Frank Hofmann: 514-696-4572 (See sketch below)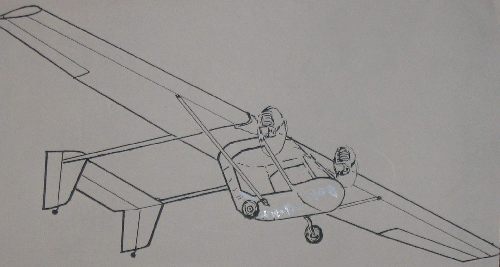 ---
For Sale:
Jack Geall is selling his Zenith CH-200 project along with many aviation tools and completed E-Z-E Lift 1650 floats. Call 819-274-2275 or 450-689-0359 or email
---
For Sale: Lycoming 0-290G
Comes with aircraft oil pan, mags and carburetor. Never operated on an aircraft (was on a propeller driven ski sled) but unknown hours. Call Pierre Leduc: 514-817-8421
Also, have C-75, C-85, C-145, O-200, O-300 Continental cylinders, a nice Hartzell prop for a C-180 (O-470), a few tail wheels assemblies, C-140 struts, a C-140 right wing, C-180 landing gears, a few 6'' wheels as well as transponders and other parts and radios.
---
Tie Downs & your Hangar Space
Now available at CLA6 25 min. from Galipeau Bridge off Hwy 401:
Lancaster Airpark Inc: N45 12.00' W074 21.75'. 145' ASL
2400ft x 125ft grass runway 07/25
22111 Old Hwy #2, Bainsville, ON
Call Gord Larsen at 514-697-5259 or 514-262-2470
---
For Sale:
1980 Pober Pixie P9 Built by Dale Lamport. C-GTLQ. 1 Place, open-cockpit, parasol wing, 65 HP Continental. TTAF & ESOH = 521.
Registered "Amateur Built". Visit www.greatplains.com/pixie.html for basic data (VW Engine).
Inexpensive, fun flying. Phone Winston Smith 613-528-4752
---
For Sale - Aircraft Parts:
For further information call Frank Hofmann at 514-696-4572 or see Frank's website or his blog. Frank also has many Manuals, Books and Magazines for sale, listed in a separate document.
2. Lycoming 0-320 parts: -E2D oil sump complete with intake pipes $ 600
- Alternator support bracket $ 20
- two 150 HP pistons $ 40 ea
- Inter cylinder baffles $ 10
- Pump cover plate $ 5
- MA 4 SPA carburetor P/N 10-5009 $ 700
- Oil pump riser tube $ 25
- Valve cover $ 20
- Spin-on oil filter base assembly 77852 with Vernatherm
valve assembly 53E19600 $ 290
- CF-100 oil filter assembly P/N C294505-0101 $ 20
- Parker 212CW Vacuum Pump $ 50
3. MA 3 SPA carb plastic float and gasket kit $ 20
4. 4 Carburetor heat boxes, all different $ 35 ea.
5. Bendix Ignition switch without 'Start' $ 100
6. Scott oil temp indicator with bulb, 2 1/4", new $ 20
7. 4 Fuel gauges, 2 1/4" $ 10 each
8. OAT gauge, windshield mount type $ 30
11. DG Piper 99003-8, Vacuum, Model 40008-9, P/N 14262-001-10 $ 400
12. Clock, 2 1/4" Wakmann, windup $ 180
14. 3" CHT, Model 17B521A $ 50
15. Four CHT probes, gasket type Lewis 8T301F2 $ 30 ea
16. Four CHT thermocouple leads, 10', P/N L116-10 $ 10 ea
17. AN 3211-2 4 position rotary switch for 4 CHT probes $ 30
19. Mitchell Course Deviation Indicator model CD-1000 $ 10
20. Hourmeter - electric 2 1/4" $ 30
21 Alternator , 35 amp, Model F7087, with regulator, O/V + brackets $85
22 600x6 axle nuts $ 10 ea
23 500x5 axles $ 50 pair
24 500x5 axle nuts $ 10 ea.
25 600x5 Axle Shims , selection of five available $ 60 each
26 500x5 axle shims, selection of 4 $ 50 each
27 C-150/152 Cleveland brake discs # 164-00400, new $ 100 each
28. Stainless steel muffler shroud (possibly for an 0-320 installation) $50
29 Cessna 150 rear baggage compartment closure $ 10
30 4.75" diameter access cover plates $ 6 each
31 Wing Tip Position Light Mounts $ 10
32 Tail Light Mount $ 10
33 Cessna style rudder rotating beacon fin mount $ 30
34 Instrument Post Lights $ 10 each
35 C-172 Nosewheel axle with bushings $ 20
36 TriPacer shock cords - Rusco P/N 1080HD 5/8"x8" , pair $100
38 Hartzell Propeller Governor F-6-31Z $ 400
39 Spinner support - Hartzell propeller $ 20
41 Assorted Hydraulic Fittings $ call
42 Flush Fuel Cap complete with mounting plate and neck $ 80
43 C-177 flush fuel caps and plates $ 80
44 Wooden Propeller, 52x24 for 25HP Ultralight engines, new $ 120
45 Assorted Hardware $ call
46 Control Cable 1/8" 7x19 stainless $ 1.50/ft
47 Loran - Micrologic ML 6000 - removed working $ 50
48 ARC Marker Beacon Receiver R-543A $ 50
49 King KI 201C VOR/Localizer Indicator $ 50
50 AK 850 encoder and antennas. Removed working, Tagged by shop $ 750
52 Audio Panel - KMA-20 $ 50
53 Antenna splitter, model AD-9 $ 20
54 VHF comm. Antenna $ 20
56 KX 170B radio complete with harness $ 80
57 Oil pressure switch for Hobbs Meter $ 10
58 Antenna Insulator $ 3
59. VOR antenna - 'rabbit ears' $ 20
60 C-150 muffler $ 120
61 C-150 muffler shroud $ 60
62 C-150 air filter P/N C294510-0301 $ 5
63 Piper J-3 exhaust header stacks $ 160 pr
64 Piper Cherokee muffler $ 120
65 C-85 intake pipes $ 10 ea
66 C-85 Intake elbows $ 40 ea
67 C-85 valve pushrods $ 5 ea
68 C-85 Inter cylinder baffles $ 5 ea
69 Rocker Box cover gaskets - Continental - P/N 530112 $ 2 ea
70 Cylinder Base wrenches - Lycoming internal wrenching Allen head $ 45 ea
71. Air/oil separator- Cessna P/N 0750103-1 $ 30
72. Air/oil separator - Aircraft Spruce # 10570 $ 30
73. Firewall cabin hot air control valve. Cessna P/n $ 100
74 Dash controls - cable - T handle lock $ 20
75 Cessna 140 Parts Manual and Service letters $ 40
76 Cessna 140 seats - 2 bottoms and 1 backrest $ 30
76. Cessna control lock - vertical pin $ 5
77. Sheet aluminum - 0.016"; 2024T3; 4' x 12' $ 140
78. Lycoming tools: Ball Cylinder Hone; Valve Spring Compresser; Piston Ring compresser; Piston pin hone, Small diameter cylinder hone - 1"; Small diameter ring compresser - 2-3"; Prop turning bar; Piston Ring groove scraper, Continental engine Ring compresser; Piston Ring expander