About S.J. "Steve" Wittman - Our Chapter's Namesake
Inventor, Race Pilot, Airport Manager
A real aviation pioneer, Sylvester Joseph Wittman (April 5, 1904 - April 27, 1995) received his pilot's license in 1924 (signed by Orville Wright) and built his first aircraft later that same year. He was born in Byron, WI, and spent most of his youth in the Byron/Fond du Lac area.
Starting in 1925 he operated his own flying service. He also became a demonstration and test pilot for the Pheasant Aircraft Company, which moved to Fond du Lac in 1930. Wittman was active in air racing through most of his aviation career; from the Thompson Trophy Races of the 1930s to the Lowers, Baker, Falk races in the 1980s. In January of 1932 Wittman won the Colonel Green Trophy in Florida while racing his own airplane design "Chief Oshkosh". Upon returning to Oshkosh, an estimated 600 people turned out to greet him on his return. Oshkosh Mayor T.G. Brown greeted Wittman proclaiming "Your achievement has been a distinct honor, not only to yourself and your plane, but also for the city of Oshkosh. We want the fame of Oshkosh spread far and wide throughout the land, and I think you and your plane have done that remarkably well."
Wittman spent the remainder of his life in Oshkosh, serving for many years as the operator and manager of Wittman Airport. His racing aircraft are on display at the EAA Museum and the National Air & Space Museum.
1903 - Sylvester Joseph "Steve" Wittman was born April 5th, in Byron, WI.
1924-25 - Designed and built an early homebuilt "Hardley-Abelson" and taught himself how to fly.
1926 - Placed 2nd in his first air race at Milwaukee flying a Standard J-1.
1931 - Moved to Oshkosh to manage the Winnebago County Airport and opened Wittman Flying Service. He designed and built "Chief Oshkosh", his first race plane.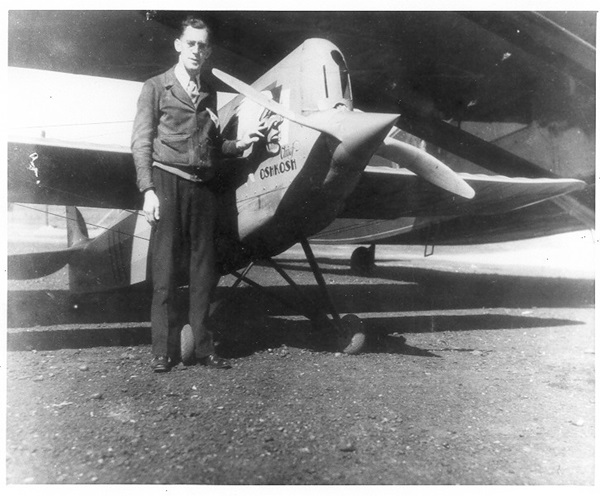 Photo courtesy of EAA.
1937 - Designed and built Buttercup and patented the Wittman Leading Edge Flap. At the Cleveland National Air Races, Chief Oshkosh, piloted by Wittman, won everything in its class and set several world speed records.
1937 - Patented the Wittman Flat Spring Steel Landing Gear, later used on Cessna airplanes and many homebuilts.
1953 - Built the prototype Wittman Tailwind powered by a Continental C-90. The fledgling Experimental Aircraft Association published the plans.
1969 - Retired as manager of Winnebago County Airport. Airport renamed in his honor to Wittman Regional Airport.
1970 - Built "Witts V" to promote Formula Vee Air Racing.
1975 - Built Oldsmobile powered Tailwind.
1985 - Built "O & O Special".