Ray Aviation Scholarship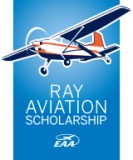 Through the generous support of the Ray Foundation, EAA provides up to $10,000 to deserving youths for their flight training expenses, totaling nearly $1,200,000 in scholarships annually.
The program is supported by more than 100 EAA chapters, and supports close to 120 scholars.
Each year, our chapter supports one scholar, between the ages of 16 and 19, in the form funding and mentorship to help him or her earn their pilot certificate. Chapter 24's Ray's scholar for 2020 is Lawson Laslo.
Sundance Flight Academy Scholarships
Ten scholarships amounting to $50,000.00 were administer by EAA Chapter 24 for Sundance Flight Academy in 2020.
We are already starting on next year's candidates. For information on this program, come to any of the meetings or functions of the metro Oklahoma City EAA chapters.
Our thanks and appreciation to:
Sundance Airport
Sundance Flight Academy
Their instructors and
Mr. Jerry Hunter
For their support and generosity.
EAA Post-Secondary Scholarships
Through many generous donors, EAA awards more than $75,000 in scholarships for students attending a post-secondary institution with a focus on aviation, including pilot training, aeronautics engineering, aviation management, airframe and powerplant (A&P) maintenance, and more.
They can learn more about EAA's scholarship opportunities at EAA.org/Scholarships. The scholarship deadline is January 31, 2021.