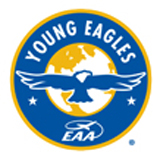 Founded in 1992, the Young Eagles program is dedicated to giving youth ages 8–17, an opportunity to go flying in a general aviation airplane. These flights are offered free of charge and are made possible through the generosity of EAA member volunteers.
It's the only program of its kind, with the sole mission to introduce and inspire kids in the world of aviation.
Today, the Young Eagles program has flown over 2 million young people.
Chapter 234 offers three activities for youth based on the Young Eagles program:
Young Eagles Flights - This past year we offered a full Young Eagles Introductory Flight Program starting with our first Young Eagles flight in June at Cherry Capital Airport followed by by Young Eagles flights in Empire (Y87) and then again at Cherry Capitol Airport in October. This season we flew over 100 local youngsters, some for their very first ride in a general aviation airplane. We will resume Young Eagles introductory flights in the spring of 2022 starting on Saturday, May 7th.
Young Eagles Club - In addition to the Young Eagles Flights, Chapter 234 holds monthly Young Eagles Club meetings. These meetings are intended to introduce young people ages 12 -16 to aviation and STEM related activities leading to their ability to understand the principles of flight, navigation, airplane and airport terminology, airspace and air traffic control. This session will include hands on activities such as aircraft and aircraft component build activities and visits to aviation related facilities (once pandemic restrictions are eased). To support the Young Eagles Club activities, we've installed two flight simulators which are used to give the students a basic feel for the principles of flying and navigating general aviation airplanes and are used in our education activities. The January through March Sessions will focus on learning about aircraft construction and flight principles through the construction and flight of a model airplane (we will be building 6 individual airplanes). Our next event will be a Young Eagles Club meeting on Saturday, April 9th, 1220 Airport Access Rd, Traverse City, MI 49686 from 12:30 to 4:30. Please sign up HERE to reserve a spot.
Young Eagles Private Pilot Education Mentoring - Each Young Eagle Flight participant receives a free coupon to Sporty's Online Private Pilot Ground School. (The Coupon is on the back page of your Young Eagles Logbook). This course can qualify you to take the FAA Private Pilot Written Exam. To assist our Young Eagles in accomplishing this goal, we will hold twice monthly mentoring session to help resolve questions and help to understand the material that is presented in the online ground school. These sessions will be held on the second and fourth Tuesday nights in January, February and March at our office on the 2nd Floor at 1120 Airport Access Rd Traverse City MI 49686 from 6:00 to 8:00 PM.
Please feel free to contact our Young Eagles Coordinator at the number below for information regarding any or all of these programs.
If you'd like to be kept informed by email of future events, please SIGN Up Here for our Chapter mailing list to get the latest news!
For more information from EAA headquarters about the Young Eagles program, visit www.youngeagles.org
For more information about learning to fly go here: Homepage - Student Pilot News
For more information about Civil Air Patrols and Young Eagles go here: CAP Cadets & Young Eagles