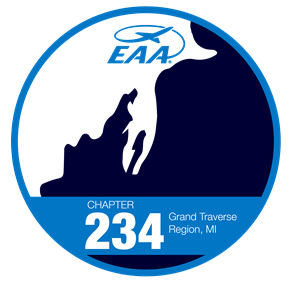 Whether you fly, build, restore or simply enjoy airplanes and aviation, you are welcome to attend our events and join our chapter. We are a group of aviation enthusiasts, aircraft builders, and pilots who get together with like minded people to share ideas, exchange information, encourage safety, serve the local aviation community and have a lot of fun doing so. Please come to our next meeting or event as our guest.
EAA Chapter 234 was formed by a small group at Acme Skyport in 1965 with the primary interest in promoting aviation safety, education and fellowship. Bob Witkop formed a notorious group of Saturday morning flyers that posted a year round schedule of places to meet for breakfast. This was the appropriately named Bob's Breakfast Bunch.

These days, our Chapter hosts a variety of events and has a very active Young Eagles program.

Our regular gatherings are the second Thursday of each month at 6:30 p.m. Learn more about our monthly gatherings and other events.
We always welcomes visitors at our events. Come meet us, see what we're all about, then consider joining our Chapter.

For more information on our chapter, please contact our president via the Contact Us page.
We hope we'll see you at our next event!