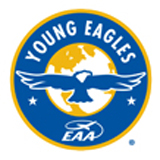 Founded in 1992, the Young Eagles program is dedicated to giving youth ages 8–17, an opportunity to go flying in a general aviation airplane. These flights are offered free of charge and are made possible through the generosity of EAA member volunteers.
It's the only program of its kind, with the sole mission to introduce and inspire kids in the world of aviation.
Today, the Young Eagles program has flown over 2 million kids.
For more information from EAA headquarters about the Young Eagles program, visit www.youngeagles.org
Pilot & Volunteer Registration
We use the EAA Young Eagles Day management website. Pilots and ground volunteers Please Register HERE to participate in our YE rallies. (see "Sign Up" at upper right)
Youth Registration and Upcoming Events
To be added to our Notification List for future events, please SIGN UP HERE (new list for 2021-22)
UPCOMING EVENTS
Jan 01, 2024 - Louisa County Airport (KLKU)
Registration Links for any Active Events will be displayed at bottom of this page.
PAST EVENTS
Nov 04, 2023 - Middle Peninsula Regional Airport (KFYJ) - 29 participants
Aug 18, 2023 - Chesterfield (Richmond Executive) Airport (KFCI) - 16 participants (RPD group)
Jun 17, 2023 - Hanover County Airport (KOFP) - 29 participants (HCSD group)
Apr 29, 2023 - Middle Peninsula Regional Airport (KFYJ) - 8 participants (youth group)
Apr 06, 2023 - Chesterfield (Richmond Executive) Airport (KFCI) - 30 participants (CPD group)
Jan 01, 2023 - Louisa County Airport (KLKU) - 45 participants

Oct 08, 2022 - Middle Peninsula Regional Airport (KFYJ) - 19 participants (youth groups)
Aug 19, 2022 - Chesterfield (Richmond Executive) Airport (KFCI) - 22 participants (RPD group)
Apr 30, 2022 - Tangier Island Airport (KTGI) - 17 Participants
Feb 06, 2022 - Louisa County Airport (KLKU) - 13 participants

Nov 13, 2021 - Chesterfield (Richmond Executive) Airport (KFCI) - 12 participants (youth group)
Aug 24, 2021 - Chesterfield (Richmond Executive) Airport (KFCI) - 49 participants (RPD group)
Jul 15, 2021 - Middle Peninsula Regional Airport (KFYJ) - 5 participants
Mar 20, 2021 - Louisa County Airport (KLKU) - 4 participants
Jan 01, 2020 - Louisa County Airport (KLKU) - 16 participants
Oct 26, 2019 - Chesterfield (Richmond Executive) Airport (KFCI) - 38 participants
Jun 29, 2019 - Chesterfield (Richmond Executive) Airport (KFCI) - 21 participants (youth group)
May 04, 2019 - Chesterfield (Richmond Executive) Airport (KFCI) - 31 participants
Jan 01, 2019 - Louisa County Airport (KLKU) -12 participants
Nov 11, 2018 - Chesterfield (Richmond Executive) Airport (KFCI) - 19 participants (CPD group)
Aug 24, 2018 - Chesterfield (Richmond Executive) Airport (KFCI) - 40 participants (RPD group)
Jun 23, 2018 - Hanover County Airport (KOFP) - 29 participants
Jun 9, 2018 - Chesterfield (Richmond Executive) Airport (KFCI) - 41 participants
Mar 24, 2018 - Louisa County Airport (KLKU) - 14 participants
Jan 01, 2018 - Louisa County Airport (KLKU) - 17 participants