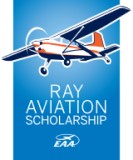 Through the generous support of the Ray Foundation, EAA provides up to $10,000 to deserving youths for their flight training expenses, totaling nearly $1,200,000 in scholarships annually.
The program is supported by more than 100 EAA chapters, and supports close to 120 scholars.
Each year, our chapter supports one scholar, between the ages of 16 and 19, in the form funding and mentorship to help him or her earn their pilot certificate.
We have selected our scholar for 2020, and he is well on his way to earning his private pilot license! Josh is taking his training at Poplar Grove airport, and has soloed in the Cessna 150 aircraft. Now on to the books and getting the written test passed! Congrats, Josh!
The chapter is also supporting two other student pilots, and conduct a ground school on Thursday evenings at 6:30 PM at the EAA hanger on Cottonwood Airport. This week Mark Grocholl will continue with a focus on Sectional Charts, Airspace requirements, and cross country planning. Other student pilots (or even if you have a pilots license or are just thinking about it,) are welcome to join us.