Come to the Open House and 5K Run-the-Runway at Minute Man Air Field in Stow, on Saturday, October 2! The 5K starts at 8:00 am; the Open House runs from 9:00 am to 2:00 pm.
Join us to watch the airplanes, talk to pilots, and learn about the airport and general aviation. National Aviation Academy and Chapter 196 of the Experimental Aircraft Association will be giving tours and demonstrations, and offering food and activities for kids and adults. Go to http://NorthEastRacers.com to sign up for the 5K. All 5K proceeds will benefit the Stow and Boxborough Conservation Trusts.
Want to know more?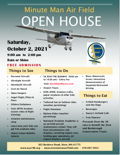 See the Open House event flyer.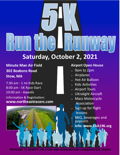 See the 5K Run-the-Runway flyer.