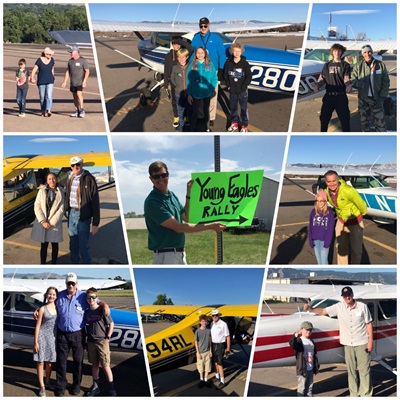 YOUNG EAGLES

VIRTUAL

RALLY -

Saturday, April 3, 2021, 9-11 AM!
Come join us for our first Young Eagles Rally of the 2021 season! We will be meeting virtually from 9-11 AM. This rally is open to all aviation enthusiasts (kids, parents, and future pilots!). Our topics will include:

1). What is the EAA Young Eagles Rally Program?

2). How can I register my child for our live rallies? - Click the link at the bottom of the page

3). What can I do with a pilot's license?

4). an Expert Panel to answer your questions about aviation, flight training, etc.

5). Chapter updates including future events & opportunities: (Build and Fly - model airplane build project, flight training scholarships, etc.)
Topic: EAA Chapter 1627, Young Eagles Virtual Rally!
Time: Apr 3, 2021 09:00 AM Mountain Time (US and Canada)
Join Zoom Meeting

https://us02web.zoom.us/s/2572368551?pwd=a25hakNzMXM1QWVKaTNpa3hTam1kUT09
Zoom is the leader in modern enterprise video communications, with an easy, reliable cloud platform for video and audio conferencing, chat, and webinars across mobile, desktop, and room systems. Zoom Rooms is the original software-based conference room solution used around the world in board, conference, huddle, and training rooms, as well as executive offices and classrooms. Founded in 2011, Zoom helps businesses and organizations bring their teams together in a frictionless environment to get more done. Zoom is a publicly traded company headquartered in San Jose, CA.
us02web.zoom.us


Meeting ID: 257 236 8551