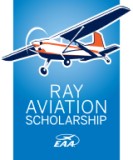 Through the generous support of the Ray Foundation, EAA provides up to $10,000 to deserving youths for their flight training expenses, totaling nearly $1,200,000 in scholarships annually.
Each year, our chapter provides funding and mentorship to one scholar to help them earn a pilot license. We will select a scholar on October 31st, 2020 and help them complete flight training within a calendar year. All aspiring aviators ages 15-19 are encouraged to apply.
For more information, please send a message to BoulderEAA@gmail.com.
Scholarship Coordinator
Name: Ivana Vu
Phone: 562-212-8189