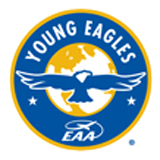 Founded in 1992, the Young Eagles program is dedicated to giving youth ages 8–17, an opportunity to go flying in a general aviation airplane. These flights are offered free of charge and are made possible through the generosity of EAA member volunteers.
It's the only program of its kind, with the sole mission to introduce and inspire kids in the world of aviation.
Today, the Young Eagles program has flown over 2 million kids.
For more information from EAA headquarters about the Young Eagles program, visit www.youngeagles.org
Chapter 1524 had a great year in 2019!
The pilots of Chapter 1524 flew 221 Young Eagles and our events had over 280 Young Eagles flown!
EAA National recognized Chapter 1524 as 3rd in the state for Young Eagles flown in 2018. The chapter is looking forward to 2020 continuing our 4th Saturday's of the month Young Eagle Events.
We had another awesome Art and Air Festival this year! We flew a total of 183 Young Eagle's and had 17 different pilots volunteer from Oregon and Washington provide and volunteer rides to our local youth. We want to thank the many sponsors who helped make this event a great success, and also all our pilots, ground crew and Infinite Air for all their help and support.
At this years Art and Air Festival Young Eagle Event we flew 191 Young Eagles. We had 12 different pilots from 6 different EAA Chapters in Oregon and Washington help us to provide rides for our local youth. Many local sponsors supported this event to help make it a great success! We want to thank all the pilots, ground crew and sponsors for their continued support!
We are excited to report that in 2017 our pilots gave 238 young eagle flights!