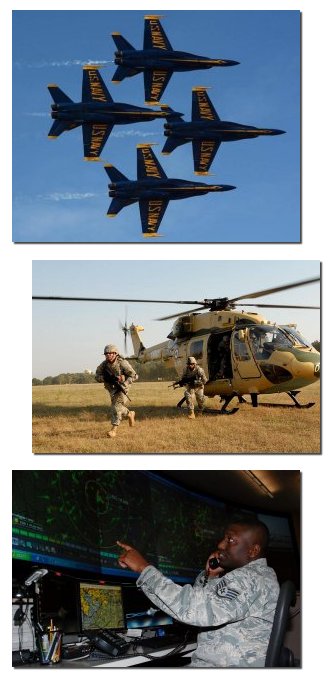 Many people don't realize the importance of aviation to the Florida panhandle- or our rich history of aviation that goes back to 1914.
More than 500 aviation, aerospace, and defense companies call Northwest Florida home. The economic impact each year is measured in billions-- not millions. A majority of companies are involved in engineering, testing, industrial design, and research & development; air transportation and support activities; information technology, systems integration, and network solutions; as well as computer and electronic equipment manufacturing, flight and aviation-related training, and aircraft maintenance, repair, and overhaul (MRO).
US Army Aviation is our close neighbor, being headquartered just "up the road" in Enterprise, Alabama (in fact, the Tri-County Airport falls within its airspace control). With a history going back to the Wright Brothers, World War I and World War II, US Army Aviation traces its earliest history to Orville Wright teaching the first US Army pilot (Benjamin Foulois), two world wars, Korea (with its first use of helicopters), and in 1955 with the Army Aviation Center being established a fifteen minute flight away at Fort Rucker. (Fort Rucker is the central focus for training and operations for US Army Aviation.)
The US Air Force Rescue & Coordination Center (AFRCC) and the 325th Fighter Wing are headquartered just down the road from us at Tyndall Air Force Base in Panama City. AFRCC is responsible for ALL search and rescue operations for the United States-- both military and civilian and are highly respected.
US Navy Aviation is headquartered in close-by Pensacola; this includes Naval Air Station Pensacola, the National Naval Aviation Air Museum and the Blue Angels. Since the US Navy first began to fly, the Florida panhandle has been at the very center of naval aviation, with a history going back to January 1914, continuing through every conflict until today.
Visit our airport and you never know which branches of the military may be present.
But it's Not Just About the Military...
Florida panhandle and south Alabama aviation isn't just military aviation-- there are civilian flight schools, public and private aviation technical schools, businesses who depend upon their own aviation departments and aircraft, aviation contractors, and of course, tens of thousands of pilots, technicians, mechanics and other employees and business leaders who have direct and daily ties to aviation within a close drive. Some of these folks are members of our local chapter. As noted above-- over five hundred aviation-specific companies call the Florida panhandle "home."
So now you know!