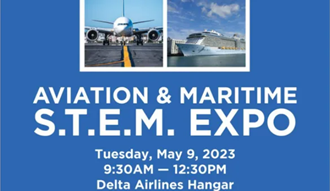 Aviation and Maritime STEM Education Expo
FPA participates every year in the Aviation and Maritime STEM Education Expo at Boston Logan International Airport. The event was held on Tuesday, May 9th, 2023 at the Delta Airlines Hangar.
The Expo has been a premier educational event that started more than 20 years ago as a collaborative effort sponsored by the Federal Aviation Administration (FAA) and the Massachusetts Port Authority Office of Diversity, Equity & Inclusion. The Expo is an important event where representatives from industry, government, and academia join forces to introduce Greater Boston and New England youth and educators to the opportunities and experiences offered by the aviation, maritime, and transportation community.
The typical format for the event is as follows:
Exhibitor Set Up 6 - 8 AM.
Coffee and Muffins for Presenters 8 - 8:30 AM.
Students arrive at 9:30 AM and depart at 12:30 PM.
Lunch for the Presenters following students' departure.
This is an opportunity to share our professionalism and expertise from all areas of the aviation and transportation industries with our regional students. Our focus is STEM (science, technology, engineering, and math) this year. FPA participants help to highlight the correlation between education and careers, and they fly their aircraft into Logan for static display.