Roger Ellis
First President of EAA Chapter 1445
Roger was born November 15, 1915 in Green Bay, Wisconsin and saw my first airplane at age 6 flying down the railroad tracks from Green Bay to Milwaukee. After graduating from high school in 1933 Roger went to Dallas Aviation School, Dallas, Texas where he received 25 hours of flight training and license number 35514.
In 1939 he moved to Los Angeles went to work at Lockheed Aircraft. After leaving Lockheed, Roger went to work at California Flyers, a school at L.A. International, then known as Mines Field.
Roger was drafted into the army on December 5, 1941 and was at Fort McArthur, California, on December 7. He was transferred into the Army Air Corp. and sent to Jefferson Barracks,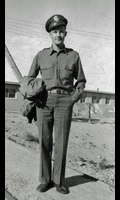 Missouri, for basic training. After basic training, Roger was transferred to Chanute Field, Illinois. At Chanute Field, he received more mechanics training. After achieving good grades Roger was made an instructor. He taught engine operation and troubleshooting.
While at Chanute he was sent to Indianapolis, Indiana, to the Allison engine factory for training on disassembly and reassembly of the Allison engines.
In the spring of 1943 he was picked to receive training as a maintenance engineering officer and was sent to Boca Raton, Florida, for basic officers training, then to Yale University in New Haven, Connecticut, for technical training. Roger was then sent to Williams Field, Arizona, where he was one of the officers in charge of a line maintenance operation. His team performed 25-hour inspections on P-38 Lightings.
While at Williams Field another officer and Roger were sent to the North American plant in Inglewood, California, for training in the maintenance of B-25 Mitchell bombers. On completion of training He returned to Williams Field and later I was assigned to Ajo, Arizona, at a gunnery training base for Williams. A fleet of 106 North American AT-6s equipped with a 30.06 machine gun were maintained.
The Ajo base was transferred from Williams to Luke Field supervision and Roger was sent to Amarillo, Texas, for B-29 flight engineer training and later to Lowry Field for the flight phase of training. At Lowry, Roger trained in B-24s. The war ended before he checked out in the B-29.
After the war, Roger returned to L.A. where he says he made the mistake of not pursuing the flight engineer field. Roger was rehired at Lockheed and was put to work on the F-104 assembly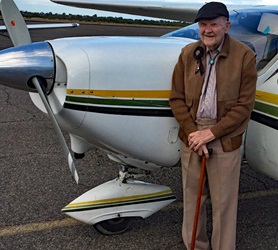 line. Roger lived in the San Fernando Valley (Granada Hills) and went to church at Canoga Park where he heard about the testing of rocket engines on the mountains above Simi Valley. He appliedfor a job at Rocketdyne and was hired. While working days he went to school nights at Pierce College in Woodland Hills. Roger received enough credits to transfer into the engineering department, where he designed circuitry and hardware for instrumentation and control systems. Roger worked at Rocketdyne for 12 years and was terminated when John Kennedy was assassinated and Johnson became president (Johnson moved the testing effort to Texas).
Roger applied for a job with Bechtel, in the same field, and worked for them for 17 years on electric generating stations. One evening he was reading an aviation magazine when his wife suggested that he start flying again. They were living in Snowflake, Arizona, at the time and Roger was working on the Cholla generating station in Joseph City, Arizona. He went to Show Low, Arizona, and started flying again and ultimately bought a 1979 Cessna 172 from his instructor.
Roger retired in June 1985, and was able pursue his woodworking hobby and helped his wife, Annretta, with her doll hobby. They bought property and built a house in San Carlos, Mexico and travelled annually to Maryland to visit his wife's family. Annretta passed away in 2003. Roger moved to Casa Grande in 2007, where he completed building a new woodworking shop. Roger renewed his flight privileges in November 2007 at 91 years of age. Roger's last flight was made on his 100th birthday in a Cessna Cardinal. Roger celebrated his 104th birthday in November, 2019.