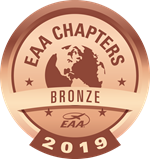 Change in Stack Procedures for Stanfield VOR
The direct link to the updated PowerPoint is on that same page.
Early Morning Fun Flight
Member Bob Meyer takes his RV8 for a flight to get his blood flowing. Bob is an ex navy aviator and airline pilot. Social distancing in the time of COVID.
Roger Ellis Passing
Roger Ellis a founder of EAA Chapter 1445 and its first president passed away April 18, 2020. Roger was 104 years old. Please watch this short YouTube video tribute
to Roger.
February 2020 Meeting
Chapter meeting was held on February 22, 2020 at the Chandler Municipal Airport (KCHD) terminal building. Fifty members and guests attended the meeting.
Mike Braeger gave an interesting and informative presentation on making wooden props. Mike also brought several examples of his craftsmanship.
The fish cook that was planned for February was actually rained out. This is very unusual for Arizona. The fish cook will be held in April at the monthly meeting that is planned for Ak-Chin Regional Airport.
January 2020 Meeting
EAA Chapter 1445 held it's annual bar-b-que and meeting at the Chandler Municipal Airport (KCHD) on January 18, 2020. Over 50 members and guest showed up to enjoy the comradery, good food, and the fantastic Arizona weather. Enjoy the brief YouTube video.