Mike Still Passing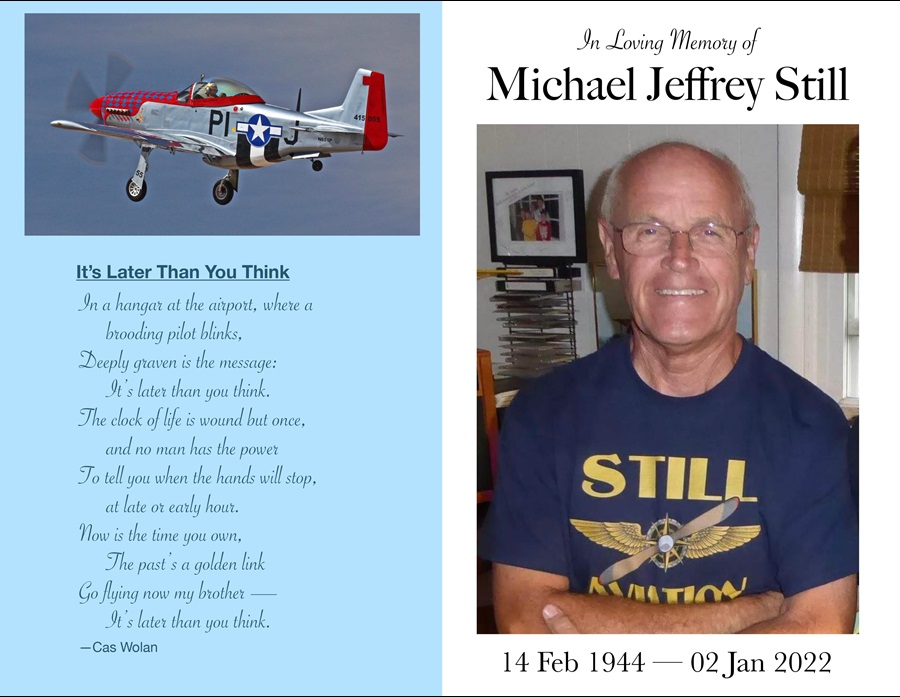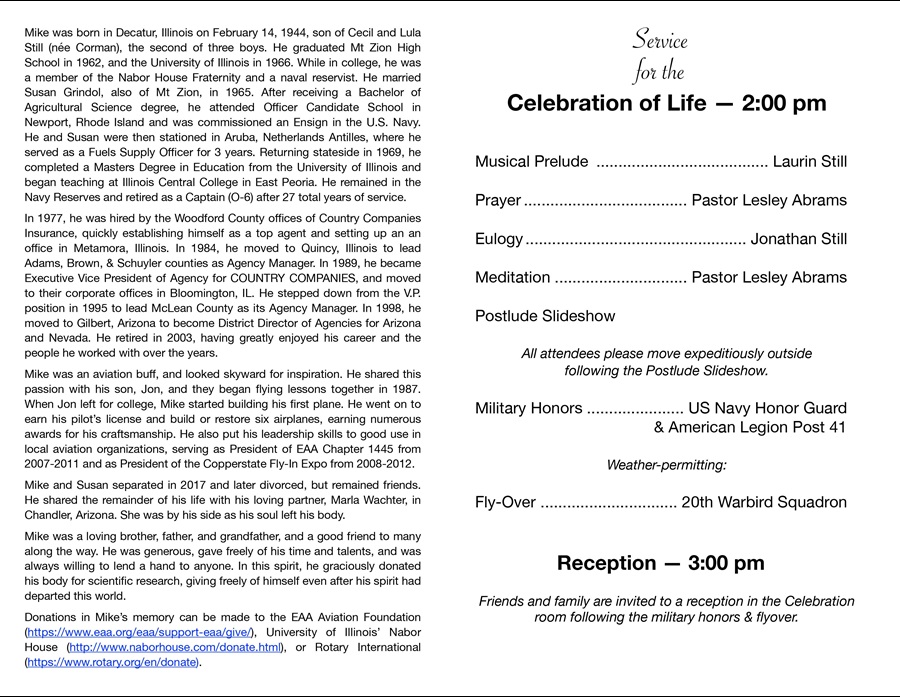 Subject: Mike Still Flew West Today...
First of all, let me say thank you all for the prayers & support you provided Dad and our
family during this time. I've met most of you during my visits to Chandler over the years,
and even talked to a good number of you this last week. Dad loved his community of
Dad completed his last round of aggressive chemotherapy at the beginning of
December — although he had lost weight & most of his hair, he had beaten cancer, was
in complete remission, and was in excellent spirits. He was eager to get back to
spending time at CHD doing what he truly loved — building & maintaining aircraft and
hanging out at the airport with his flying friends… even if he wouldn't be flying much
Unfortunately, his immune system was severely compromised, and despite being
vaccinated & boosted, he came down with Covid and was admitted to the hospital on
December 17th. He seemed to be getting better around the 22nd, and we thought he
would be released just before Christmas, but he took a turn for the worse on Christmas
Eve and developed Covid pneumonia. His oxygen requirement rapidly increased, and
he went quickly from a simple nose cannula, to a mask, and eventually to a ventilator.
I flew out from PA last Monday, and was able to talk to him briefly before he was
intubated, although he was pretty hypoxic at the time. After going on the ventilator, he
was in stable condition, and his doctors thought he had a good chance for recovery.
Unfortunately, his body was too weak to fight off the infection in his lungs and today, his
heart gave out from the effort.
His loving partner — Marla Wachter (cc'd) — was at his bedside as he was withdrawn
from life support. I would ask that you continue to provide support to her in the days
Dad's was a huge supporter of the EAA Foundation & the Ray Scholarship Foundation.
Rather than flowers or other remembrances, I would ask that you consider giving to
those organizations in his name.