EAA CHAPTER 1358 CAPITAL CAMPAIGN


PRIMARY OBJECTIVE
EAA Chapter 1358, an IRS approved 501(c)(3) non-profit organization, is requesting your financial support to construct an on-airport, multi-purpose building that will facilitate youth aviation science and maintenance classes, airplane build projects, Young Eagle rallies, FAA approved simulator training, and aviation training events and seminars.
SUMMARY OF PROJECT
Experimental Aircraft Association (EAA) Chapter 1358 is a well-established, non-profit organization that has supported the Wiregrass Community for over 10 years with a focus on the EAA Young Eagles Program. EAA Chapter 1358 has utilized the Young Eagles Program to fly over 1,000 students ages 8 through 17 from all walks of life, free of charge, so that they may experience the freedom of flight and better understand the numerous career fields associated with aviation. Chapter 1358 has close working relationships with the Dothan-Houston County Airport Authority (for land lease), the Aero-One Aviation Fixed Base Operator (FBO) at Dothan Regional Airport, Auburn University Department of Aviation (Professional Pilot Program and Aviation Summer Camp), and ACOM Aviation Academy (Youth based flight and ground training). The Chapter membership has approved a fund- raising campaign that will resource the construction of a basic 3,000 sq ft building. The goal of the campaign is to raise $80,000.00, of which more than half has already been committed, and it will take place from August 1, 2019 to December 31, 2019.
a) Purpose of the project
There is currently no facility within the Wiregrass that is dedicated to giving students "hands on" exposure to all aspects of aviation career fields: flying, maintenance, drones, and air traffic control.
From the Fall of 2012 to January 2018, EAA Chapter 1358 thrived in space generously provided by Aero-One Aviation. In January 2018, business needs necessitated the Chapter move from the FBO. Since then, the Chapter's work with respect to the EAA Young Eagles Program has been severely constrained.
The Chapter's FAA approved flight simulator is now virtually inaccessible and we have no space to set up a permanent training environment dedicated to Wiregrass Young Eagles. Monthly aviation education classes are held in common area classrooms at Dothan Airport, but no permanent training aids, materials, or equipment can be left on site as the space is used for other airport training.


Flown Over 1,000 Wiregrass Area Young Eagles

Awards annual scholarships to Auburn University Aviation Summer Camp

Developed scenario-based simulator flight training for high school students

Provides aviation career counseling at Southeast Alabama Worlds of Work events

Collaborating with ACOM Aviation Academy's extensive ground and flight training for high school students

Conducts FAA sanctioned accident prevention training in support of local aviation businesses and professionals

The aviation industry is growing and EAA 1358 supports a skilled aviation workforce in the Wiregrass and beyond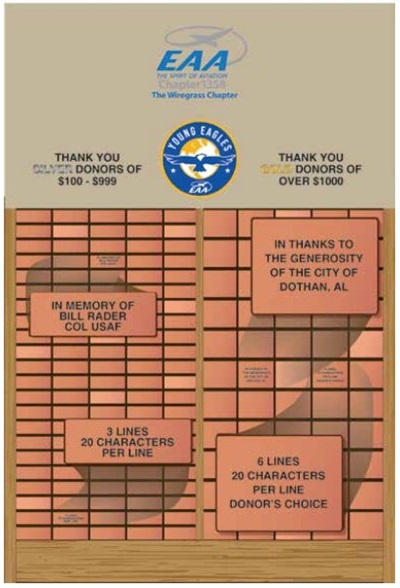 GIVING OPTIONS