Horizontal Stabilizer and Elevator
The horizontal stabilizer and elevator are the first laminated parts you make. By the time you are done with these, you'll be a pro at lamination. The outer structure of each is made with up to eight 1/8" x 3/4" strips of spruce or pine. A nail jig and lots of clamps are used to bend and glue the wood into position. To get the wood pliable enough I used a 9 foot long PVC pipe filled with water and soaked the wood overnight. Once in the jig, the wood is left to dry, then removed and the T-88 structural epoxy is applied to each strip. The strips are placed back in the jig, clamped and allowed to dry.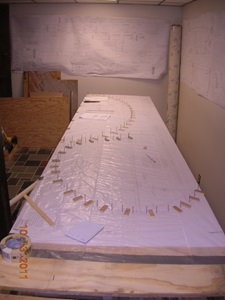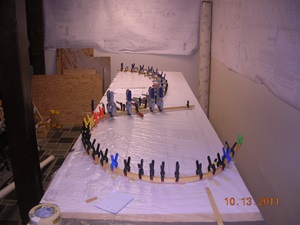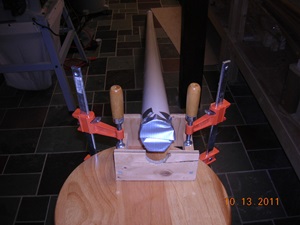 Another thing you get very good at is clamping techniques and corner blocking. There are numerous ribs in these parts and they have to be securely attached to the leading and trailing edges. This is done with a variety of corner blocks and gussets over the blocked structure.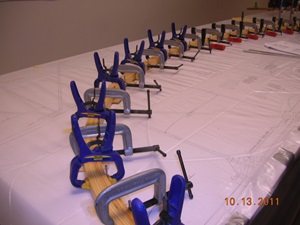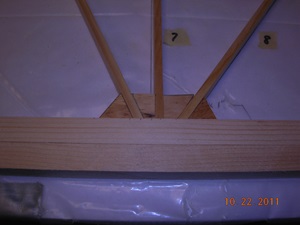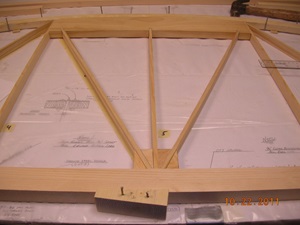 The elevator on this aircraft has a trim tab that is built into the elevator when you are constructing it. Then you cut it our along with the rear center of the structure. The prints only give a hand-drawn facsimile of what it is supposed to end up like. So you also have to be a bit of an aeronautical engineer to get the design right. Below I have created an actual size layout on the table to make sure that I was going to get all of the internal parts, their angles, corner blocks and gussets right.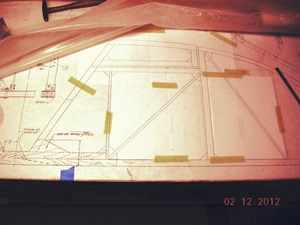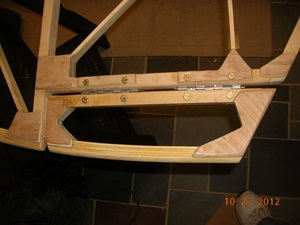 The final assembly is quite nice. Really looks like something that goes on an airplane!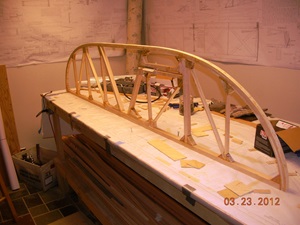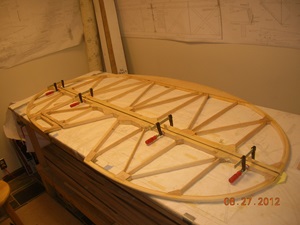 Vertical Fin and Rudder
The vertical stabilizer and rudder have slightly different construction design than the rest of the tail section in that they use plywood ribs instead of spruce. The leading edge of the fin and the trailing edge of the rudder are laminated in the same way as the horizontal components.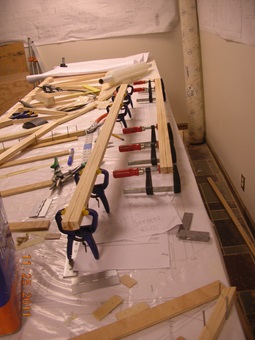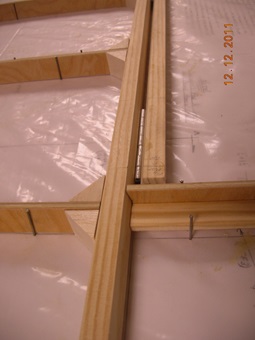 The tail post is part of the vertical fin and is a complicated piece as it has a taper design vertically as well as bevels in cross-section. The vertical taper is hard to see in these pictures. It is designed that way to allow for a thick lower section to be attached at the rear of the fuselage and a narrow upper section for better airflow and centering for and around the rudder. Piano hinges are used to attach the rudder to the tail post. The cross-section bevels allow the horizontal movement of the rudder.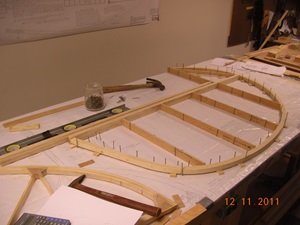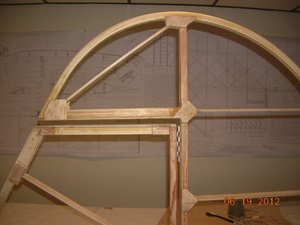 The completed components look great for an old style biplane.