In February 1998 the necessary paperwork was filed with the City of Macon, County of Macon, and the State of Missouri for a Non-Profit Corporation adopting the name of "Northeast Missouri EAA Chapter 1212". The purposes for which the Corporation is organized are:
a. To promote and encourage the sport and hobby of recreational aviation.
b. To cooperate with and assist government agencies in the development of programs that promote and support recreational aviation.
c. To promote and encourage aviation, education and safety in the design, construction, restoration and flying of all types of aviation vehicles.
d. To provide aviation enthusiasts at all levels the opportunity to participate in grassroots aviation activities
In 1998 the Chapter began holding monthly meetings in various locations around the City of Macon. A central meeting place was needed and the most logical and appropriate location would be at the Macon Fower Memorial Airport. Members of the chapter approached the City of Macon with a proposal to build an addition onto the existing airport terminal, completely funded and built by the Chapter. Chapter members took on the job of raising funds and purchasing everything needed for completion. The members stepped forward with machinery, materials, additional funds, and most of all their labor to accomplish the goal.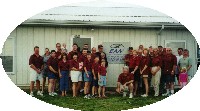 We are very proud of our founders. They constructed a place for all to come and share our passion -- aviation. Come take a look to see all that can be done with a lot of teamwork and dedication to a purpose. We invite you to come, participate, share, and enjoy.