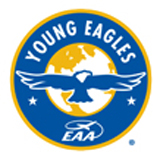 Founded in 1992, the Young Eagles program is dedicated to giving youth ages 8–17, an opportunity to go flying in a general aviation airplane. These flights are offered free of charge and are made possible through the generosity of EAA member volunteers.
It's the only program of its kind, with the sole mission to introduce and inspire kids in the world of aviation.
Today, the Young Eagles program has flown over 2 million kids.
For more information from EAA headquarters about the Young Eagles program, visit www.youngeagles.org
EAA1174's Young Eagles program has been recognized by the Minnesota Pilots Association as the Chapter that has flown the most Young Eagles in the State for the last four years in a row.
Our program centers on a cooperative effort with local schools where we are able to go into the school and introduce the Students to aviation and related careers and present a very basic ground school. The schools then arrange to bus the students to the Airport where they are given the opportunity to take a flight with one of our flight leaders.
We also fly Young Eagles at our Annual Waffle Breakfast and by group or individual appointment. Contact our coordinator for more information.