Congratulations! You have arrived at one of the largest and most active Experimental Aircraft Association chapters in the southeastern USA.
EAA1114 is a 501(c)(3) charitable organization that offers something for every aviation interest in central North Carolina: homebuilding, vintage, warbirds, ultralights, fly-ins, fly-outs, workshops, aviation history and good old hangar flying.
Thanks to Chapter member extraordinaire Jan Squillace for presenting part 3 of her Introduction to ForeFlight for our August 21st meeting.
Thanks to Don for hosting our July 17th meeting - Don showed off his Zenith 701 project with an extensive show-n-tell and engine start. Very nice!
We had a great turnout for our "annual" picnic on June 19th - As we work to get back to "normal"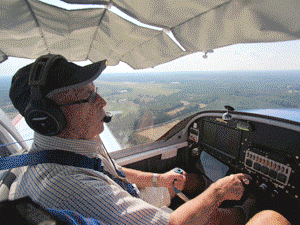 in-person meetings, kicked things off with our summer picnic on the grounds at Cox Field. For a few photos and details, see the facebook group.
For our May meeting, Chapter member Jan Squillace, CFI/CFII shared her expertise with ForeFlight with our chapter. ForeFlight is one of the best EFBs (Electronic Flight Bags) that are a 'Must Have-Must Use' tool for pilots. This was an online "zoom" meeting, A recording is available if you missed the meeting, email Membership if interested.
IMC/VMC Club will meet via Zoom until further notice - See the FAAST site for details. Next meeting is VMC Club on Aug 12th at 7pm, click here for how to join.
Our Chapter has been approved to select a Ray Aviation Scholarship candidate - We selected and funded two students to share in the scholarship for 2020.
The process allows us to select a student pilot aged 16 to 19 who will compete for a scholarship of up to $10,000 towards training for a Private pilot certificate. For more information or to propose a student you think is deserving of this fantastic opportunity in the future, contact our scholarship coordinator, Dan Moore.
Our own Tal Holloway makes Sport Aviation - Tal's beautiful Vans RV-10 is shown in the May issue of Sport Aviation (page 119). If you don't have the printed Sport Aviation, click here to see the article online. You may need to log into the EAA site. Since the digital magazine photo is small, click here to see the original photo.
Our own Dan Moore makes Sport Aviation - Dan is featured on pages 100-101 of the Dec 2019 Sport Aviation describing building The Transmogriflier, his Just Aircraft SuperSTOL, with help from his son. Very nice article. Congratulations Dan! Click here to see the article.

Spring is the time for a new Chapter T-shirt or jacket, visit our Cafe Press site

Follow us on Twitter.
Guests are always welcome once we're back to meeting in person. Come join us for one of our meetings. See our DIRECTIONS page to find us by plane or car. The CALENDAR page provides a list of upcoming chapter and area events. Have any questions? See CONTACT US.

EAA Chapter 1114 has one of the world's leading Young Eagles programs With over 17,000 kids flown! We have numerous nationally recognized coordinators and volunteers. For details on upcoming rallies, see our YOUNG EAGLES page.

Why wait and miss all the fun? Become a member of EAA1114.

We look forward to seeing you at our next event!