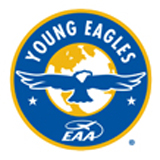 Young Eagles Program
Young Eagles was launched in 1992 by the Experimental Aircraft Association (EAA) and is dedicated to giving youth ages 8–17 their first free ride in an airplane. It's the only program of its kind, with its sole mission to introduce and inspire kids in the world of aviation. The Young Eagles program has flown over 2 million kids. If you have a child that is interested in aviation and a free airplane ride near the Raleigh/Durham Triangle region of North Carolina, fill out a YE Interest Response and we'll put you on the list and let you know when we have an upcoming rally. Also feel free to contact the Young Eagles Coordinator directly.
Young Eagles Rallies - in the NC Triangle Region
EAA Chapter 1114 has been flying kids for over 25 years and was honored by the national EAA leadership as one of the top 25 Chapters for Young Eagles flights. With over 17,000 kids flown, Chapter 1114 is ranked the number two chapter in the world!
Rick Mestler is the Young Eagles Coordinator for EAA Chapter 1114. Please contact him for rally and volunteer information and any questions at YoungEagles@eaa1114.org
All rallies are held in airports around the Raleigh, NC area. Pre-rally registration is highly recommended, but not required. As rallies are added, they will show up at the bottom of this page where you can click the link to register. There is no limit to the number of rallies in which a youth may participate. Please NOTE: A parent or legal guardian MUST accompany their child to the rally and sign a form giving permission for the flight.

Rallies are influenced by weather, pilot/aircraft availability and public health issues. Every effort is made to make a timely decision to change a rally date and notify all registered families and volunteers.

For Parents, if you have a child that is interested in aviation and wants a free airplane ride, fill out a YE Interest Response and you will be put in our Young Eagles database and will be contacted when rallies and events are planned. Many of your questions can be answered by reading through this link, Information for Parents.
For You who would like to Volunteer and get involved with this very worthwhile activity, Thank You. It takes a number of Pilots and Ground Support volunteers to safely staff a rally. Rally volunteer information can be found on www.EAA.org or www.EAA1114.org. For local and specific volunteer information and needs, please contact the Young Eagles Coordinator.

For Pilots who want to be a Young Eagles pilot in a rally or to provide separate Young Eagles Flights, you must meet EAA requirements. EAA YE Pilot Requirements
Contact the Young Eagles Coordinator for specific information and instructions for Young Eagles involvement.
Chapter 1114 YE Rallies for 2022
Young Eagles rallies for 2022 are underway.
Our first rally was on April 30 at the Harnett Regional Jetport. There were 79 Y

oung Eagles Flyers flown.

A Young Eagles was held at the Raleigh Executive Jetport, Sanford. NC on June 25. We flew 68 Flyers.

The final 2022 YE rally was held on November 12

at the Henderson-Oxford airport. Sever storms came through the day before but cleared for a perfect rally weather. 75 kids were flown.
There have ben preliminary conversations with airport management for 2023 YE rallies. Rally information will be posted on this web page.
Parents who have submitted an Interest Response form will receive an email with information and sign-up instructions.
The safety and health of all participants is my paramount concern. We will not hold a rally until all criteria for a safe and healthy environment can be met.
Other Local EAA Chapters may have Young Eagles rallies scheduled.
You can click here to view the Current National List of Planned Young Eagles events to see if there are any upcoming events near you.

Please contact me with any questions,
Rick Mestler
EAA 1114 Young Eagles Coordinator
Apex, NC
YoungEagles@eaa1114.org