Flying Directions (scroll down for Driving Directions)
Cox Airfield is located just north of US 64 in Apex, NC, between Salem Street (downtown Apex) and Hwy. 55 exits. See Driving Directions, below, for club house location.
WARNING: * Please use caution at all times on airport grounds due to flight operations, dogs, children, and deer.
* No information provided here is considered sufficient for flight planning - get your own briefing!
Lat/Long:
35-45-06.5440N / 078-51-35.0260W
35-45.109067N / 078-51.583767W
35.7518178 / -78.8597294
Field elevation: 460.
Runway: 9/27, 2400. turf
Preferred T/O: to west, downhill
Preferred Landing: to east, uphill
Preferred pattern: south side of US64
Comm: CTAF, 122.9 (please use!)
Pond on east end, tall trees on west end. Exercise extreme caution as aircraft may be taxiing on the grass during day or night. Please be aware of surrounding residential areas on departure. Cox field lies under RDU airspace.

On the Sectional below, Cox Field is indicated by the red dot. Click on the image for full online Sectional charts centered on Cox Field.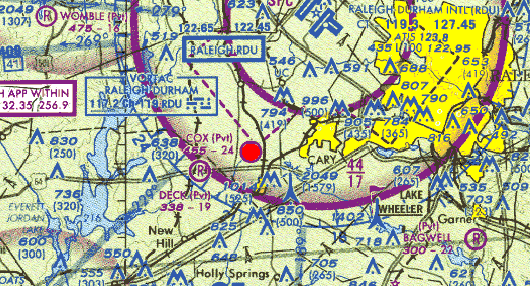 Driving Directions
Usual meeting location is 1616 U.S. Hwy 64, Apex, NC.

Be aware that your GPS unit may not find the correct entrance! Click here to see the entrance on google maps.

The entrance is only accessible from the westbound side.

There is no off ramp so use caution exiting the highway.

Drive west on US 64, just north of downtown Apex.
Just after the Salem Street exit, look for a stone entrance on the north side, just past where the on-ramp merges in.
Exit through the stone entrance and stay on the paved road as it winds around the pond.
Park near the two-story blue building on the right where the road ends at the runway.
Chapter clubhouse, aka "Bull Shack" is up the stairs, enter from the deck.
Note: A stair lift is available if needed. Enter through the door on the lower-left side of the building, and look for the staircase.
On the map below, the entrance to the airfield is shown as a red star.
Click on the image for Google Maps of the same location.