Events
Chapter 1093 has many regular events, all open to the public. We also host school, scout and other groups for educational events. If your group would like to schedule an event please contact Sarah Pagano!

Currently things are looking up for our 2022 aviation camp and we are planning on hosting it again this year!
In the aviation camp students will be introduced to many aspects of the world of aviation and space through hands on experiences. From airplanes and aerodynamics to weather and flight navigation, campers gain students gain experience by visiting airplane hangers, talking with the builder/owners, learning about careers in aviation, meeting aviation professionals at local corporations and visiting the nearby MBS control tower (Pending restrictions at the time).
Aviation Camp is held at the Midland EAA Ormond Barstow Aviation Education Center at the Midland Jack Barstow Airport on Airport Road between Eastman Road and Sturgeon Road. Tuition is $95 for five days. Scholarships are available.
For more information please see our Flyer here, however we are currently wait listed for this years camp. For any questions comments or concerns please reach out to Sarah Pagano, Camp Administrator, at 989-525-5206 or email aviationcamp@barstowairport.com.
Pancake Breakfast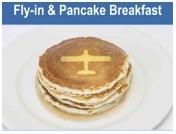 Our Pancake Breakfast is returning again this year! Please join us on Saturday May 7th for a Pancake Breakfast at the Midland Barstow Airport, from 7 - 11 AM. Pancakes, choice of eggs, sausage, and milk/coffee/juice, and our renowned fresh made Doughnuts! Take this opportunity to view the many activities at your local Airport. There will be planes to view, pilots to talk with, children's activities, visit the Midland Community Aviation Discovery Area (park) and also learn more about youth and adult opportunities at the Airport. Come join us and gather information on the upcoming "Learn to Fly Day", high school Aviation Camp, and other opportunities. Free parking, fellowship and information!
Sponsored by the Midland Chapter #1093 of the Experimental Aircraft Association. (EAA)
Proceeds fund Aviation education and fellowship at Midland Barstow Airport.
Chapter Meetings
Chapter Meetings are held on the first Saturday of every month from 10:00-11:00. The public is welcome to join us for an aviation related speaker and some "hangar flying".
Young Eagles
A Young Eagles flight is a FREE flight for children age 8-17. Chapter 1093 hosts these flights on the second Saturday of every month from 9:00-12:00, weather permitting so please check our facebook for more info.

Adult permission is necessary. Please register at YoungEaglesDay.org.
Except in special circumstances parents do not accompany their children on the flights in order to accommodate as many children as possible.
We also ask that you limit your Young Eagles ride to once per year so that others may get the chance to experience the thrill of flight.
Props & Treats
Join us Saturday October 30th for our Props and Treats event! Enjoy crafts, A Halloween story and of course trick or treating at the airplanes!
See our Flyer here for more information!
Veterans Flight Day
Our EAA chapter is proud to announce our first veterans flight day! Flights begin Saturday November 13th at 13:00.
Please call a head to Register: 989-492-0252
See our Flyer here for more information!
Santa Fly In
December 5th Santa is flying into Midland Barstow Airport! Join us for crafts starting at Noon with Santa landing at 1pm!
Check out our flyer here.