The 2020 NorthEast Experimental Fly-In with 4 seminars was scheduled for Saturday, June 20, but given the new, May 18 Massachusetts guidelines for Covid-19, we are canceling the event as you know it. BUT !!!
new plan (as of 5/19/20):
We plan to hold all four (see below list) of our planned 2020 seminars, but these will be live (with Q&A), on-line and spread out one every few weeks.

So check back for the dates/time for our virtual fly-in seminars.
1st up: A LIVE weight & balance of an RV-8 using our chapter's digital scales.
SPEAKER: Bob Di Meo, EAA Technical Counselor, RV-8 builder, CFI and so much more.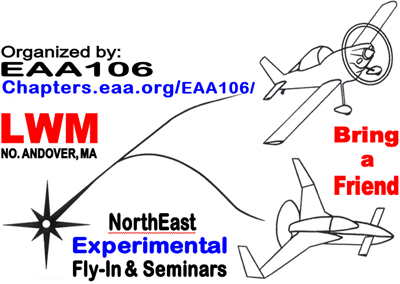 The NorthEast Experimental Fly-In with Seminars is hosted annually by EAA Chapter 106

WHERE: (normally) EAA Chapter 106's hangars and ramp area on the north side of the Lawrence Municipal Airport (LWM)
This FREE event (but come hungry to help support our expenses) offers you the opportunity to:
1) See experimental aircraft (also known as homebuilt from a kit or plans) which are built under the FAA category of Experimental / Amateur-Built or E/A-B).
Learn more
2) Attend/participate in several free seminars and workshops. These may include hands-on how to build an aircraft, aviation safety, and many other topics.
List of past seminars

NEXT: JUNE 20, 2020 <<< Canceled due to Covid-19, but we plan to hold the below seminars one every few weeks. Check back for new dates/time and how to sign up for the zoom links.
FLYER: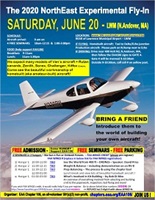 <<< This flyer was for the planned event. The below seminars are still being planned, but for different dates.
2020 SEMINARS:

SEMINAR
SPEAKER
See the World from 400 ft – DRONES
David Price
Weight & Balance– including demonstration on an RV-8
Bob Di Meo
Prop Balancing– The process & using the chapter tool
Joel Ventura
What's Involved in Kit Building
(selection, building, paperwork, inspection, test flights, etc)
Bob Di Meo
For pictures of prior events, click this photo:

Above: RV-8, a 2-place, kit-built, aerobatic aircraft.
You, too, can BUILD YOUR OWN PLANE!