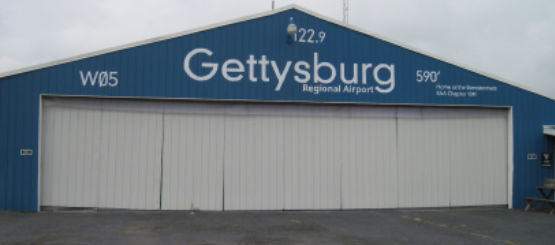 2021 Meeting Times and Dates
January 4 May 3 September 13 The Corona Virus Pandemic has caused meeting postponements and cancellations please check the latest
February 1 June 7 October 4 newsletter For current meeting information details.
March 1 July 12 November1
April 5 August 8* December ???TBD**
All meetings are held at the Gettysburg Regional Airport starting at 7:00 PM Local time except as noted
*Chapter Picnic Mathna Airport
**Chapter Christmas Party
Gettysburg Regional Airport (W05)
1130 Chambersburg Road, Gettysburg PA 17325
http://www.airnav.com/airport/W05
From the square in Gettysburg, go 2 miles west on Chambersburg St (Rt. 30 W),pass Herr's Ridge Road and the airport is on the left (south side of the road).


Mathna Airport (2PS3)
495 Pondtown Road, Dillsburg, PA 17019
717-432-7389
http://www.airnav.com/airport/2PS3
From Route 94 (N from Hanover) take Quaker Church Road (near the Concrete Jungle.) and travel to a tee... that will be Latimore Valley Road, turn left and cross a one-lane stone bridge. A short distance on Latimore Valley, Pondtown Road will be on the right. Follow Pondtown Rd about a mile and the airstrip will parallel the road on your right

From Route 194 (N of East Berlin) Turn left onto Pondtown Road. Stay on that road through the intersection at Braggtown. The airstrip will be on your left.

From Route 15 (N from Gettysburg) turn right at Worley's Fruit Stand onto Latimore Valley Road and follow it to Pondtown Road. Turn left and find the airstrip on the right about a mile after you turn.